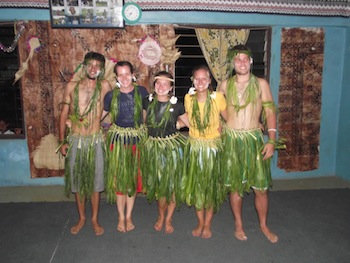 Why did you decide to study abroad with Carpe Diem?
Stephenie: While browsing different programs, Carpe Diem stood out to me because of it's focus on culture, service, and nomadic style. I particularly liked that you could attach this travel with college credit without actually studying in a university. I received a full semester's credit without once stepping into a classroom, rather, hiking, volunteering, and WWOOFing through the South Pacific.
I also appreciated the idea of continuing to travel throughout the entire term, what I refer to as the "nomadic style". Instead of going to one place for three months, we had the opportunity to make many different connections and build relationships in each country. It was truly amazing.
Carpe Diem is also a very challenging program. It's not cushy, you aren't living in hotels or dormitories. This was exciting to me – to learn to travel, with very little money, in countries I had never been to. I knew from reading the website that I was about to learn so much, grow and develop as a traveler, and as a person.
Describe your program socially and academically.
Stephenie: Travel, as all who travel know, is a constant learning process. Academically, the study was much on your own and depended greatly on how much you are willing to put into the experience. You should be a person who can take the initiative and make your studies important. No one is going to make sure that you are on track, which is good for those of you who plan to study at a university. The academics while abroad mainly consist of observation and journaling your different experiences. Upon your return, you are expected to write papers concerning your experience and submit them to Portland State University for credits.
Socially the experience is like no other. You are in a group of 10-14 people depending on the trip, which turns into your family for the next three months. You will eat, sleep, work, and play with these people. It is amazing to see how relationships can develop with others in such a short time when these are the arrangements. For me, this was hugely important. I became very homesick while abroad and I could not have made it through without the support of this group of people. Without trying to sound cliché, we all had a way of taking care of each other, supporting each other, and helping each other grow.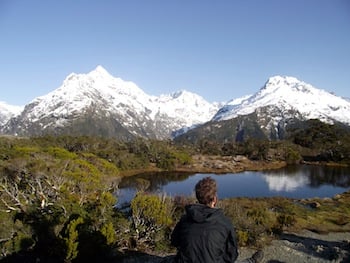 Tell us about any cultural tidbits you noticed about your country.
Stephenie: Perhaps my favorite thing about the South Pacific (Fiji, New Zealand, and Australia) is the friendliness of the people. They go out of their way to help foreigners, much different from the United States. If you have the opportunity to live in a Fijian village, you would be a fool to pass it up! These are people who can teach you a great deal about life, and what is important.
Make sure to journal every day and keep it in a safe place. These are memories you are going to want to remember and pictures sometimes don't do justice.
If you could do-over one thing, what would it be?
Stephenie: I would go to different countries! I truly believe that the trip was exactly what it needed to be. I learned so much and do not regret any of it because it allowed me to grow and develop into who I am now. But I think my biggest challenge while abroad was holding on to things back home. If I were to go again, I would try and let home go for three months. Focus on what is present, right in front of me. Live in the now.