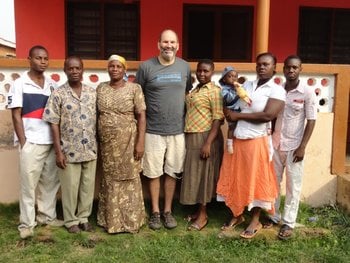 Why did you decide to volunteer abroad with GVN in Ghana?
Matthew: GVN came highly recommended by another volunteer agency that I had some contact with. Their website was inviting and engaging. It answered many of my questions and helped me narrow my choices down. I wanted to go to Africa and teach -- through their website, Ghana became a suitable match for me.
Ten years from now, what's the one thing you think you'll remember from the trip?
Matthew: 10 years from now? Well, there are certain "legacies" I helped create during my tenure. One is a toilet facility that they installed a plaque on. How many people can say that they have building with their name on it -- especially a series of 12 toilets! On a serious note, as a pulpit rabbi, the connection I made with the headmaster/Pastor in PramPram Ghana will be the most sustainable. He is coming to the USA in 2014 as a guest of the congregation. Our synagogue will continue to send materials to the BethEl school. I hope that in 10 years, that relationship will thrive!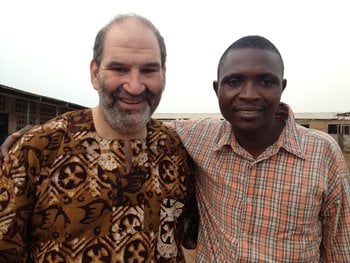 What's something interesting about Ghana that the average person doesn't know?
Matthew: Ghana is a highly developed African country. In the capital of Accra, one can find a western flair. In the rural areas, you find people who are gracious and welcoming as well as incredibly proud. While this trip was eye opening, what I found there was joy -- pride in a simple life and an embrace for who I am, not what I brought with me... Also, West African cuisine was down-right awesome. I love Banku and Fufu!
Where would you most like to travel to next?
Matthew: I want to go back to Ghana, but this time with my family. I want my wife and 3 children to experience the majesty of the country. Since one of my children aspires to teach, these experiences would be ideal. Another one of my children is involved with occupational therapy, and his skills are so very much needed there. My 3rd child is my 15 year old daughter, and I would like her to see the ability to engage life without a sense of materialism as she contributes to making a better world. Now, I went to Ghana for my 50th birthday, so perhaps Vietnam for my 60th?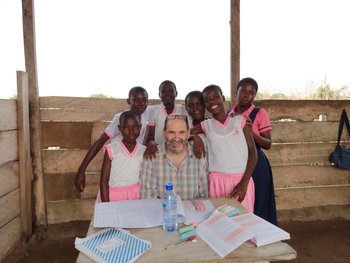 How has this experience impacted your future? (Personally, professionally, etc)
Matthew: As a pulpit rabbi, I talk the talk about living by religious values. While in Ghana, I was able to apply those values into reality. What I discovered was a wholeness to my soul that was lost over the years of doing my job, not living by my values. I have become an advocate for many African causes because those voices that advocate are rare and far between in North America. I can't dance any African dances, but I am learning to cook some African dishes, as well as reading up on my African history and culture (which were highly overlooked throughout my education).