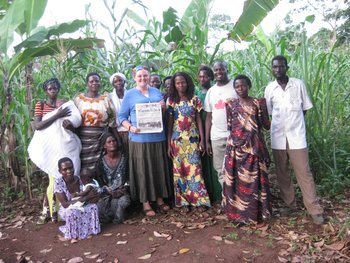 Why did you decide to volunteer abroad with GVN in Uganda?
Kelsey: I decided to volunteer abroad because it's something that I've always thought about doing while growing up. I love travelling and exploring new cultures. I volunteered with GVN because it was a reputable company and I wasn't sure on how to complete the process on my own, or who to contact to get things started in order to begin planning my volunteer experience. I chose Uganda after doing research on the most affordable flights to Africa and what it would be like for a first time volunteer going alone (safety concerns, what to expect, etc.)
What was the hardest or most challenging part of your experience?
Kelsey: The hardest and the most rewarding part are one in the same: the culture shock. Not only was I a guest in this gorgeous country, but I was also a resident for six amazing weeks. The hardest part for me was the food - it is so different from what I was used to. I consider myself a picky eater, so adapting to the new foods was very challenging for me, and I found myself getting sick and not eating nutritiously. Expect posho, beans, matooke, and lots and lots of rice. Meat is considered a treat, and you might not know what kind of animal it is (could be beef, could be goat). However, even if the food is tough to get used to, there is an opportunity to have fresh local fruits often, and they are delicious! Also, drink LOTS of water, it is easy to get dehydrated, especially while you're working in the field (and dehydration sucks).
Another challenging part of volunteering was getting used to Uganda-time. Everything is delayed at least an hour, often more. Expect downtime. Bring things to do. Or, take this time to explore the village you're in and immerse yourself in the beauty of the culture and people.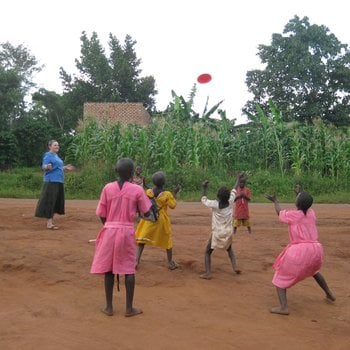 What do you the miss the most about Uganda or your experience?
Kelsey: I miss the beautiful people I met in Uganda. I miss the culture, and how different everything is. In Western society, everything is so rushed - it's a rat race. In Uganda, if you don't get something done on Monday or get somewhere you have to be, it will still be there the next day. There aren't really any deadlines, and everything runs at a slower pace. I miss the memories I made in Uganda - my favorite one was spending an entire afternoon playing Frisbee with some kids from the village while their parents and the director of the local organization had a meeting in Luganda. I didn't understand the kids when they spoke, but I understood how to play with them, and a smile means the same thing all over the world.
Where would you most like to travel to next?
Kelsey: I'm not really sure where I'm planning to go next. I like the idea of visiting places where the culture is so different than what I'm used to. Uganda was a huge step for me, especially in terms of travelling alone, and now the sky is the limit. I'd love to go back and explore more of the African continent, but I'd also like to see places in Asia, and South America, and try and make my way through more of Europe. Greece is on my list for sure. So is Spain!
How has this experience impacted your future? (Personally, professionally, etc.)
Kelsey: This experience has really allowed me to develop as an individual. I learned so much about myself and I pushed myself to experience new things while I was in Uganda that I never would have done here at home. I travelled to Uganda alone, and loved it. I was on my own schedule and didn't have to rely on anyone else to entertain me and I wasn't disappointed - if I wanted to do something I did it, I didn't have to listen to anyone else's opinion. It was such a liberating experience being able to travel alone. Professionally, I am able to better adapt to people who are from a different culture. I think it is important for them to be able to teach you about their lives and experiences through the culture they are familiar with - whether it is through dancing, food, crafts, work, etc.