What position do you hold at GVN? What has been your career path so far?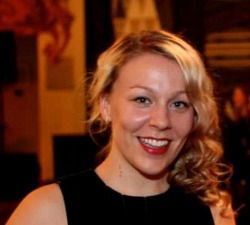 Fiona: I am the GVN Program Specialist for our Africa Volunteer Programs, and a few of our Asia Programs. My role mainly focuses on assisting volunteers with their preparations – both practical and mental – for their time overseas. I also work very closely with our partner program staff in each country, finalising details for placements and projects and generally providing support for the work they do.
AAfter studying a Bachelor of Arts in Development and International Relations, I interned and worked in fundraising for GVN Foundation (GVN's non-profit grants and distribution arm) on various campaigns. It was a natural progression from there to my current role, as I get to work with the same great local projects in a more hands-on role.
What do you enjoy most about your role at GVN?
Fiona: One of my main passions is encouraging and enabling people to take action about the issues they care about. My role gives me the unique opportunity to do this, but I also get to hear from volunteers when they return home about what they've learnt, the connections they've built and the overall impact the experience has had on them.
On the flipside, I also work with some fantastic people around the world in Africa and Asia who are committed to the development and empowerment of their community – they continually inspire me, and their work is incredibly motivating!
Often, when people think of "developing countries", a lot of negative words spring to mind – poverty, illness, and images of sadness or hopelessness. My role at GVN has showed me the opposite – there is so much life, motivation, innovation, creativity and spirit in the communities we work with. It's great to be able to contribute in my small way to helping them achieve the goals of their community in whatever direction they lead us.
Did you volunteer abroad? If so, where and what inspired you to go?
Fiona: My first taste of international volunteering was when I was 17 - during a trip to Vietnam to study history, I spent some time at a local orphanage for children with severe disabilities. That experience stuck with me, and the trip to Vietnam as a whole sparked a love of travel and grassroots development and helped me understand the importance of my role in the global community.
Skip forward and I visited GVN's Vietnam Children's Project on a backpacking trip – in a weird moment of déjà vu, I was coincidentally back in the same orphanage from years earlier. I felt like I had come full circle and knew I needed to be more involved in GVN, which is when I started my current role.
I've also spent time at GVN projects in Nepal and Uganda. I have equally great things to say about all of them, and the people I have met - volunteers, staff and community members alike – are some of the most warm-hearted people I know.
Which GVN program do you have your eyes on for your next adventure?
Fiona: Without a doubt, I would most love to spend time in our Ethiopia Program. Volunteers work with a small rehabilitation-style school – only about 15 – 25 kids aged 5 to 8 years. Each year, a new group of children from disadvantaged backgrounds are enrolled and they spend a year taking classes, life skills sessions, and extracurricular activities to kick start their education before entering a local government school
The families of these kids also receive some different training to help improve their situation – learning income generating skills or taking life skills workshops on health and nutrition. We've also just received donations to continue a lunchtime feeding project for the kids, which has vastly improved their general health, nutrition and concentration in classes.
Every volunteer who returns from Ethiopia has said that the benefits of this program for the community are so clear, and it's a great example of how international efforts can support a locally run and empowering project.
I would also love to return to Nepal – we have a new program there working with women who haven't had the chance at an education before. The ladies are great, and so motivated to learn as they missed out on getting an education when they were younger.