Why did you decide to study abroad with API?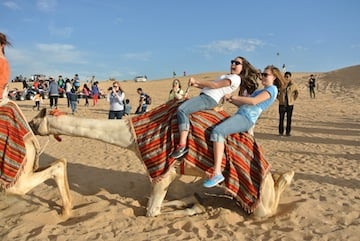 Allison: I decided to study abroad with API for several reasons. I knew I wanted to study in the UAE and there were two programs that I found that offered this. After reading and researching about them both, I decided that API was the program I would go overseas with. They were very helpful before I began to apply and throughout the whole application process. API always replied to my emails quickly and provided me with very helpful information regarding the application process and things to expect once I got to the UAE. Another reason why I chose API was because of the excursions that they offered. Lastly, API provided me with pre-departure information and a cell phone and the resident director picked me up at the airport.
What made this experience unique and special?
Allison: Not only is the location of this program unique, but you get the opportunity to be surrounded by many different cultures from around the region. The UAE is in the middle of the world, which allows for a huge mixture of people. It is a great cultural experience because there are a lot of different types of foods, events and lifestyles to see and learn about. Also, the landscape is different. You can see the desert, the city and the beach all in one day. With so many different landscapes, you will surely find plenty to do throughout the semester. I think the drastic mixture of people and the different sceneries is what I really enjoyed most about living in the UAE because I don't believe I could have learned, seen, or experienced so many diverse cultures and landscapes any where else.
What was the best place you visited outside of your study abroad city?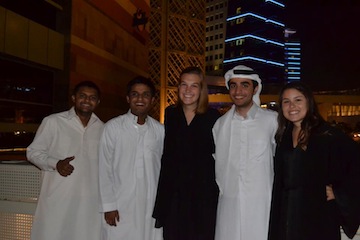 Allison: The Emirates is practically in the middle of the world which is excellent for traveling while living there. I took advantages of cheap flights that would cost a lot more from the States. I traveled to Egypt and India while abroad. They were both amazing trips that I am very glad I took because they were very different from Emirates. Traveling to Egypt gave me the opportunity to see a different Middle Eastern culture. There was a lot of history to see and I found it a valuable learning experience.
India was unlike anything I have ever seen and I am so glad I chose to spend spring break there. India can be very overwhelming and I don't think there is a way to accurately describe this incredible country by words because you have to experience it for yourself. Truly, studying abroad in the UAE gave me the chance to travel to countries that I have only dreamed of traveling to because of how close and cheap it is.
If you could do-over one thing, what would it be?
Allison: I honestly had the best time abroad and there isn't much that I would change or do-over. I think one thing that I would have changed would have been to make more girl friends that are local. I made friends with mostly boys because the local girls only seemed interested in shopping. I didn't travel across the world to go shopping, I went to experience new things like barbecuing and four-wheeling in the desert, going to the camel races, and other adventurous things. It would have been nice to learn about being a female in the Middle East more, but it was difficult to find similar interests with the girls on my campus and I wish that I would have taken the time to meet a few.