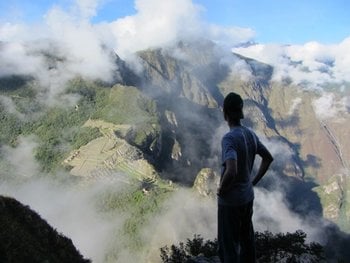 Why did you decide to study with Maximo Nivel in Peru?
Paul: For the Travel Study Program at Southern Virginia University, they try and get their groups into programs or situations that are academically challenging, in great learning environments and fun, memory-making locations. From day one in Cuzco, we were welcomed by a great campus, in a safe, central location, and with multitudes of possibilities. Maximo Nivel provides great services like free wi-fi, long operating hours, options for day trips to nearby ruins or other breathtaking locations, and also provided space for my university professor to teach some classes of his own. The classes taught to us at Maximo Nivel counted toward my college credits. It is a great program with a friendly, approachable staff. Our teachers were wonderful and answered any and all questions that we brought to them. The activities offered after classes were great as well. Free Salsa-dancing classes and the tandem" program are great tools to make friends and experience the culture.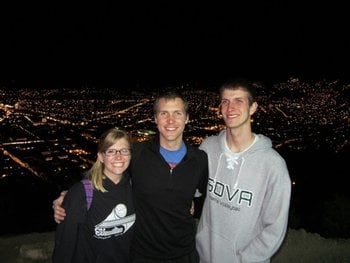 What made this experience unique and special?
Paul: For me and my fellow students, it was amazing how the staff got to know you. They really opened up their own lives and stories and attempted to connect with the students, even if there was a little bit of a language barrier. Cuzco was a wonder all on its own. I have always wanted to learn Spanish, so when this opportunity came up, it seemed a little out of reach to go to Peru to immerse myself in that language and culture. The family that we stayed with was supportive and surprisingly loving. We became a part of their family for a month. It was great.
What is one piece of advice you'd give to future students in Peru?
Paul: Definitely find a native friend to practice your Spanish with! I regret not doing it enough! They LOVE chances to learn and speak other languages and you will benefit GREATLY by becoming more proficient with your Spanish. Also, listen to advice given to you by those in charge. Losing your phone, wallet, or passport is a terrible cost to pay for being careless. Take care of yourself by following the advice of those who have been there longer. Additionally, get out! There are plenty of great places and adventures that you can embark on if you finish your studies/homework and make a day of it. It is a little harder physically if you are at 12-13,000 feet in altitude, but the city of Cuzco has much to offer to those who look. Lastly, take the time to get to know your family. They have knowledge about great places to buy and do things, they want you to be safe, they have great stories and love having exchange students in their homes.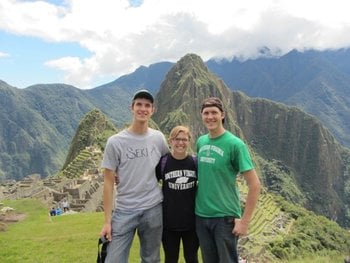 How has this experience impacted your future? (Personally, professionally, etc)
Paul: Being able to actually SEE the changes and growth in my Spanish were amazing. I hope to take more Spanish classes and finish a degree in Business with Spanish emphasis. I can totally see myself (after becoming more proficient) using my language skills in my future profession. On a personal level, I would have to say that I was very touched by the humility of the people in Peru. The lifestyle is different, and their culture is not the same, but they have the same needs. I could see myself, one day, coming back not as a student, but as a volunteer trying to improve the quality of life. I realized how much of a blessing potable tap water is and how life is different without it.