Why did you decide to teach abroad with WorldTeach in the Marshall Islands?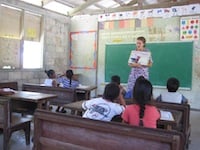 Carrie: I have always enjoyed traveling and volunteering and knew I wanted to be an elementary teacher since I myself was young. In college, I volunteered at a campus program teaching immigrants English and really enjoyed it. I decided I wanted to teach abroad after graduating. I took a course titled Teaching English Overseas through my college and one of the requirements was to pick your country and base all the course's assignments on that country. Only problem was that I didn't know what country I wanted to go to! So I started researching. Originally, I thought about Peace Corps, but decided I wasn't sure about the 2-year commitment or the fact that I couldn't pick my country or assignment.
I randomly came across WorldTeach while browsing the internet. I liked the 1-year commitment and that I could apply to a specific program. It didn't hurt that some of the programs were fully funded. I knew that I couldn't afford to pay to volunteer. I settled on the Marshall Islands because it was fully funded, was in a safe location (my parents appreciated that), and it was a place I would likely never go on my own travels. I liked the support that the program provided, both while applying and while in country. I also thought the local people sounded very warm and welcoming and I liked the range of teaching opportunities.
What made this teach abroad experience unique and special?
Carrie: Day to day life made my experience unique. Lukoj, the town I taught in, is in a rural location with solar powered lights, and no phones or running water. We cooked over a fire, kids collected the day's water from a local cistern, I bathed using a bucket and a cup, and the women did laundry by scrubbing clothes on a wooden board. Rain delayed school because everyone woke up later without the sun or roosters acting as alarms. My K/1 class eagerly gathered around me on the floor, meticulously copying me as I read Chicka Chicka Boom Boom or sang Head, Shoulders, Knees and Toes. Every weekend night, my students and I went for a walk on the beach. We sang and talked in Marshallese and English, skipped, and chased crabs in the moonlight.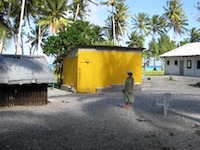 On weekends, I learned to climb coconut trees, husk coconuts, and spear fish. My three 8th graders came over every school night for tutoring in English and math so they could pass the end of year test that would determine if they got to go to high school in the capital, or if their education ended at 8th grade. (All three passed!) I drew a crowd at the Christmas dance performances, not because of my skill at dancing, but because I was foreign and they were thrilled that I participated in their local customs. When I arrived, and again when I left, the town threw a party where everyone came and brought food and homemade presents. They welcomed me into their lives.
How has this experience impacted your future?
Carrie: Unlike most of the other volunteers in my program, I went to the Marshall Islands already a certified teacher. When I finished my year, I found a job teaching 4th grade in Virginia. I am so appreciative of the supplies I now have available and am able to share my experiences with my students. They love hearing about climbing coconut trees, showering in the rain, and the foods I ate. The first year after I left, my students were pen pals with my former Marshallese students. They gained a new perspective of the world. Several of the other volunteers entered into fields relating to education, developing countries, economics, or international relations due to their experiences.
Personally, my relationship with my then-boyfriend strengthened. We have now been married 4 years. When you communicate almost exclusively through long letters that take weeks to travel across the globe, you learn a lot about each other. Not all the volunteers' relationships lasted through their time in the RMI, but mine improved because of the experience.
My cohort of volunteers is still in touch, and we email each other news articles of interest that relate to the Pacific or the RMI. I am much more aware of climate change, economic issues, and cultural issues for that region of the world than I ever would have been without this experience.
What is one piece of advice you would offer someone considering teaching abroad in the Marshall Islands?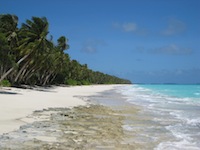 Carrie: Teaching in the Marshall Islands, whether on the urban centers of Majuro or Ebeye or the rural outer islands, is very isolating. This is not necessarily a negative, but you must be comfortable with yourself and with stepping outside your comfort zone. Mail delivery is slow. While I got it every 2 weeks, some of the other islands only received it a few times that year due to planes breaking. In general, phones don't work on the outer islands and even the urban centers have slow internet and regular power outages. It is long and expensive for visitors to come (though I was lucky that my parents and my best friend made the trip). On the outer islands especially, most locals do not speak much, if any, English. You end up communicating with gestures, smiles, and what limited English and Marshallese you both understand.
Everyone watches everything you do (I even had adults pull up chairs outside my hut and watch me journal in the evenings!), but you have to initiate if you want to join in on sports, church, walks, etc. They welcome you into their lives, but you have to make the effort. Therefore, you need to be very comfortable being on your own, taking initiative, and relying on your own strengths and skills. If you are, then you will have a marvelous and rewarding experience.