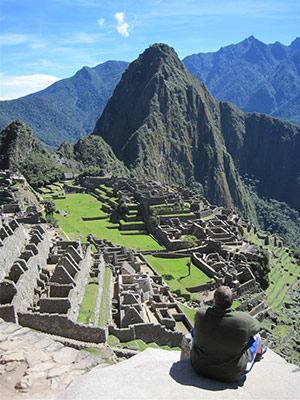 Highlights: The best part about living and studying in Peru comes down to my home placement and also the people that were on the trip with me. No matter where we came from, which consisted of states from California and South Carolina, plus many of the states in between, all of the study abroad students clicked and got along from the first day there until the last. It takes a special group of people to be able to bond that quickly and continue to have that bond throughout the total experience.
My favorite part about the experience is hard to choose. I loved the whole experience, from the support and assistance we received in booking our flights, to the final day of our departure from Cuzco. The staff that were in Cuzco to help us were amazing, including the professors. The host families were perfect for young travelers, because they helped show us the true Cuzco, that many tourists do not see.
Morning: In the morning I would wake up and have breakfast with my host family before they left for work. I would then finish work for my classes, or would head around the plaza to sit and relax before class. I lived about a 10-15 minute walk from the plaza so it was a nice stroll to classes every day. I liked walking to class because I was able to interact with the locals more that way and also stop by many of the artisan markets to buy souvenirs and clothes.
Afternoon: After my first class at 10, some of the students and I would go get lunch together before heading to our second class. Our second class was at a different institution, which was about a 10 minute walk from the plaza. After my last class, which ended about 3:00, we would usually just hang out around the plaza or go shopping together.
Evening: At night, many of the students would go out to eat together and after that go to some of the local discotecas and night clubs. They were fun places to hang out and just relax after a week of classes. Some of the nights, however, I would spend with my host family for dinner out with the family, or at parties for members of the family. Within the first week of my stay, I was involved in two different parties for birthdays. One, on the first night there for my host grandmother and the second later that week for my host father. They were really good times to practice my Spanish and experience the culture that many tourists do not. We used our afternoons for short excursions with our group, like horseback riding through the hills of Cuzco.