Why did you decide to get TEFL Certified with ITTT TEFL in the Philippines?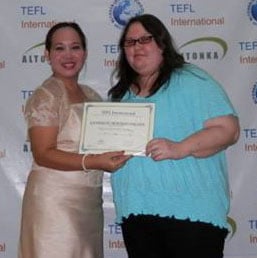 Aki: I was staying in Manila when a friend brought up the subject of TEFL. His daughter had been teaching English in Vietnam for several years before she decided to return to London to further her studies. At the time, I didn't know what TEFL was, so I started doing my own research. I was instantly overwhelmed by the sheer amount of options one had in taking the course. I found it convenient that there were TEFL centres in nearly every continent on Earth. I was contemplating on whether to take the course in Japan or Thailand, when I saw that there was a centre in the Philippines. That meant that I wouldn't have to go very far for the four week intensive course, as Manila is merely an hour away by plane from Cebu. Since I was already in the Philippines, I thought 'Why not?'
What made this experience unique and special?
Aki: The entire experience was unique from the very start to be honest. I have never given teaching as a career much thought. I was filled with trepidation as to whether I could actually teach and be a teacher. Once the course started though, my fears and insecurities were alleviated thanks to the guidance of the trainers and the support from my fellow trainees. I soon discovered that teaching is a very exciting and satisfying experience, especially teaching young learners. I still don't know if teaching English is something I'd like to do permanently, but now that I've taken a step in that direction, I intend to pursue it as far as I can. I learned a craft, visited a beautiful country and met amazing people; 'special' is not a powerful or expressive enough word to describe the experience. Mind-blowing might be more apt.
How has this experience impacted your future?
Aki: I had to drop out of university a few years ago due to personal reasons and frankly, it has been extremely difficult securing a job in such a competitive market. This certification has not only boosted my self-confidence and self-worth, but has also provided some leverage when looking for employment. My plans right now are simple: Travel, experience and enjoy. Being able to travel while having some sort of income has always been imperative, and I'm glad to say that this TEFL certification really does come a long way in helping with that plan. Of course, I still intend to study and hold a university degree, which would come in handy as some employers do ask for such requirements. Honestly, I feel like there is so much I can do and accomplish, thanks to this certification. Besides, there is a certain comfort in the thought that I could be stranded in unknown territories, but still manage to earn and survive thanks to my qualification as an English teacher. I'm not saying I would wish for that though!
What was the highlight of your experience?
Aki: I could mention the friendships I made or the places I visited as the highlights of my experience, but truthfully, my failures are what stand out vividly in my mind. During the last week of the course, I had a particularly bad day, and unfortunately, I was unable to rein in my emotions during my teaching practice. To cut the long story short, I 'gave up' halfway through my class. It was a dark moment for me because I started to doubt myself and my abilities. I felt like I failed my students. My trainer obviously gave me a low grade, but she also taught me something very important. Everyone has their bad days, even teachers. However, as teachers, we must try not to show such weaknesses to our students. At first, I thought that such an idea was absurd. I'm only human, after all. How can anyone expect me to stand firm and teach when I myself am not in tip-top shape? Then I realised that the moment I stand in front of my class to teach, it stops being about me. My students become my priority and therefore all focus should be on them. That was hard lesson; both for me and my students (after all, they had to carry on without my guidance!)
What is one piece of advice you would offer someone considering this TEFL Course and teaching abroad?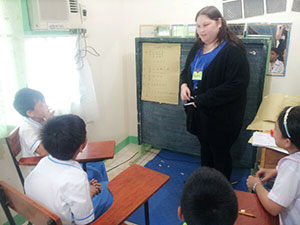 Aki: Just give each lesson your 100%. You could be looking to make a career out of teaching, or you could just be looking for a way to make money while travelling; it doesn't matter what your motivation is. Remember that you are trying to teach students and, like it or not, influencing them in one way or another. Therefore you should always be prepared with your lessons and answer your students' questions as best as you can. The trainers are there to help and guide you, so don't be afraid to ask for help. Your fellow trainees become your test subjects for practicing lessons and will help you bounce ideas around for a richer teaching experience. Also remember: Taking a TEFL course abroad is not a cheap endeavor, so I think it's only proper to give it your all. Good luck and enjoy the start of your adventure abroad! One last thing: learn to manage your time or caffeine will become your best friend.