Highlights: One highlight of studying abroad that I will always remember was going on a weekend ski trip to the Austrian Alps. I am an avid skier, and had been anticipating this weekend all semester. I even convinced my roommate to come, and she had never skied before in her life. The trip ended up being incredible. The snow was soft, the runs were wide, and the weather was surprisingly warm! Everyone stuck together on the slopes, and even though it took my roommate all morning to get down the slopes without falling, she assured me she was having a blast. We ate lunch at the very top of the mountain, in what seemed like a glass castle overlooking the entire world. I had never seen such a brilliant view; it was all so surreal. That night, my roommates and I curled up in our pajamas, sipped hot cocoa in our warm cabin, and bonded over the day's events. We were all exhausted, but when I hit the pillow I remembered thinking I couldn't wait till morning, to rise with the sun and do it all over again.
Although there were many highpoints during my time abroad, one truly special moment that I will cherish is the memory of my 21st birthday. Obviously turning 21 is not quite as monumental in Europe as it is in America, but I can confidently say it was the best birthday I could ever imagine. First of all, my parents came to Vienna to help me celebrate, which was a complete surprise in itself. I was thrilled to see them, and show them around the city I now called home. For my actual birthday, they took me and fourteen friends out to dinner at a charming Italian restaurant called "Roma" in the eighteenth district. It was an unforgettable night filled with scrumptious food, lifelong friends, and the best birthday cake I've ever had- a truffle torte from an authentic Austrian bakery. I'm glad this is a memory I can share with my parents, and fourteen amazing girls who I am lucky enough to have met, and am able to call my best friends.
Morning: While studying abroad, my roommate and I definitely had a very particular morning routine. We both had early classes, starting around 9am, and with commuter traffic it took about 45 minutes to get into the first district. We lived in a three story "villa" in the 18th district with a full kitchen, dining room, elevator and garden. It was a bit far from school, but that was a small price to pay- we were living in a villa after all. The ride into the first district on the strassenbahn was always enjoyable. My roommate and I found it was a great time to people watch, practice our German, or catch up on some class reading. Once we arrived at Shottentor, we always stopped at our favorite breakfast cafe, "Kaffee Kuche." My roommate ordered her usual mélange, and I ordered a heisse schokolade or chai tea. What really drew us back to Kaffee Kuche morning after morning, however, were their warm, home made croissants that melted in your mouth. We quickly became obsessed with these pastries, which you could order plain, or with chocolate and jam, and before long we found ourselves ordering in German, fitting in quite nicely with the Viennese regulars. After our stop at Kaffee Kuche, we boarded the U-bahn, and 15 minutes later were in the first district, just in time for 9am class!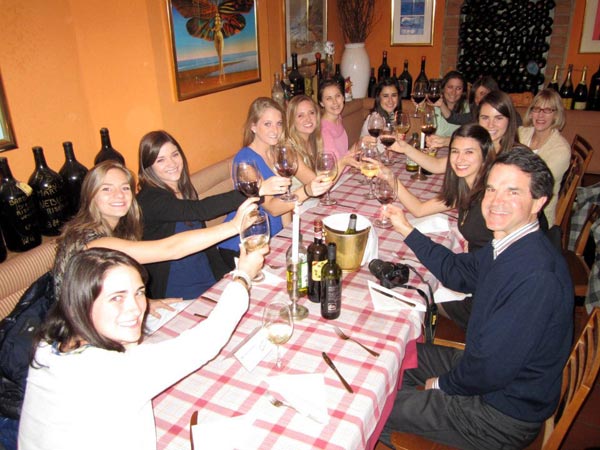 Afternoon: Afternoon was my adventure time. I had a nice 2-hour gap between classes, which I always took full advantage of. I made it a goal of mine to go to every coffee house in the first district that I could possibly get to. By the end of the four months, I had successfully been to about 13 coffee houses in the first district. One of my favorites was Cafe Central. It was the perfect, elegant and yet cozy, environment to read and study, or catch up with a friend. I often ordered a mélange, and more times than not, could not leave without trying a bite of apfelstrudel or another delicious torte. Then, I would take a stroll through the streets of Vienna. One of my favorite recommendations from the IES staff was them telling us to "get lost." I took these words to heart, and walked wherever my feet took me. Luckily, everywhere you turn in Vienna there is a gorgeous sight to been seen- whether it is beautiful Baroque architecture, strolling Mozart men, or a grand gothic cathedral. Everyday I tried to go somewhere new, and I was constantly amazed by each new location.
Evening: Evenings were always a time I looked forward to because they involved friends, laughter, and cooking. I came to Vienna never having cooked for myself, so making dinner in a "foreign" kitchen with "foreign" food was always an experience. My housemates were very helpful in the kitchen, and by the third week I was making eggplant parmesan and linguini carbinara for myself! This was quite the accomplishment. Also, my housemates and I were rather pleased that we were suddenly "of age" in Vienna, so we enjoyed sitting out in the garden during the warmer months, drinking wine, talking about the days events, and relishing our home cooked meals. The nightlife is also great in Vienna. On weekends my housemates and I went to nearby pubs and bars were we loved meeting local Austrians, practicing our German, and soaking in the cultural ambiance.