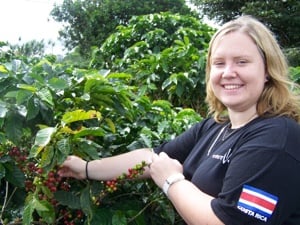 Highlights: Academically, the highlight of my trip was the overall teaching staff; I had four different professors, and they were all so personable. If I had to pick a single academic moment as the highlight of my trip, I would choose the class trip we took to another university to talk with Costa Rican students there. On the way we stopped at a coffee bean field and talked with the owner; although he was busy, he took the time to talk to us and show us how to harvest coffee beans.
After the visit to the university, we went to a market like no other I have ever seen; it was an amazing experience to see even more of the Costa Rican culture. The highlight of my overall experience was the Tico people, especially my host family; I came to consider them as my own family. We still maintain contact, and I am so thankful to have been so blessed to have met and lived with them!
Morning: In a typical morning, I would wake up and take about 30 minutes to get ready (including time sharing the bathroom with the other students in the house). Then, we would all collectively go downstairs to eat breakfast at about 7:15. Our Mama Tica provided us with quite a variety of food. We would have fruit such as pineapple, oranges, banana, apple, and strawberries. We would also have yogurt, Sunny D, coffee, cereal, eggs, and bread. On occasions we would get french toast and the traditional gallo pinto (beans and rice). At 7:50 we would walk to the university for our 8:00 classes. The early morning classes went from 8 to noon with a half hour break at 10.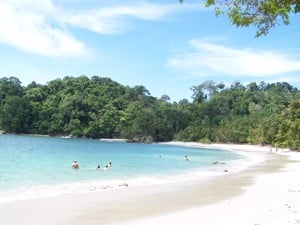 Afternoon: In a typical afternoon, we would have class 1-3, 3-5, or both after an hour lunch break. On days that we did not have afternoon classes, we would stay home with our family or take the bus or taxi to downtown San José with fellow classmates.
Evening: In a typical evening, we would eat supper at 5 or 6. Supper consisted of something new every night. One night could be hamburgers and the next would be a more traditional soup. After supper, we sat around the table and talked for a while. On some nights, we had class from 6 to 8 and an extracurricular dance class 8-9:30. Most evenings were spent talking with the host family or doing homework.