Highlights: The highlight of my trip was when I was walking to the metro station with all my luggage just hours before my plane ride back to the United States. I looked back towards my apartment that I had lived in during my stay. At this moment, the impact of my time in Paris really hit me. I realized that I was able to travel by myself for three weeks in a foreign country. The organization, my family, and my teachers helped me through this process, but I was the one who experienced the wonderful city, gained so much knowledge about the culture and the language, tried the exotic french food and listened to native music. I found myself feeling very proud and satisfied with my trip. That's what was so great about traveling myself. I was able to have my own new experiences and learn on my own.
Morning: Normally, I would wake up around 7:00 am to take a bath, get dressed, and eat breakfast, which usually consisted of a slice of bread and yogurt. I left for school around 8:00 am. Since the lady I lived with left for work early in the morning, I was the one to turn off the lights and lock the door to the apartment. I walked about four blocks until I got to the metro station. After my short yet extremely crowded ride (many workers took the metro as well), I would walk about ten minutes to get to school either by myself or, if we were lucky, my friend from my class and I would see each other and walk together. Sometimes, I would stop at a bakery on my way to school and grab a croissant. Class began at 8:30 am and the rest of the morning would consist of french lessons.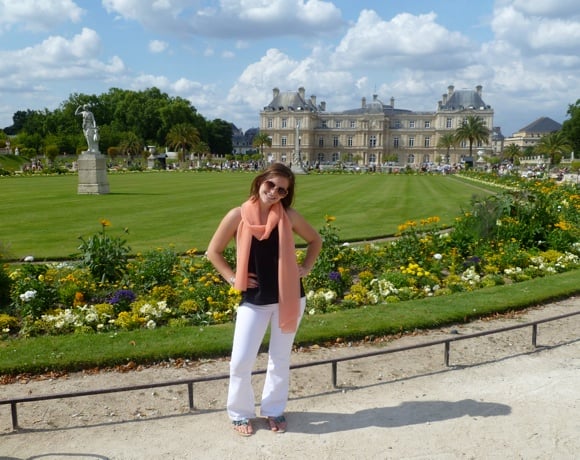 Afternoon: When class ended at 12:30, a few students and I would head to a bakery or a café to buy a sandwich, quiche, or salad. While eating, we would decide what to do for the rest of the afternoon. Each day was different; there was always something new to visit. We tended to shop, sight see, or just roam around until 7:00 or 8:00 pm. The greatest part about afternoons was all of the freedom we had and the endless possibilities of places to visit. Not having a set schedule was what made my trip so exciting. My friends and I would try to speak in French in order to get some more practice, but most of the time they wanted to speak English. Since English is my first language, they all wanted to learn new words, phrases, and American culture. During these afternoons, I felt more like a teacher than a student.
Evening: When I returned home in the evening, dinner would usually be within twenty minutes of my arrival. My host mother, Veronique, cooked our dinner, which consisted of soup, a main dish, salad, fruit and of course, bread and cheese. Each meal tasted delicious and left me feeling completely satisfied. During dinner, Veronique and I would talk about our day and our lives in order to learn more about each other and our culture. We spoke French during the duration of our conversations, which was very challenging but a great opportunity for me to practice. On nights when I would not go out with friends to get a drink, see a concert, or explore Paris's nightlife, I would complete my homework and get a good night's sleep.