Highlights: I'd have to say that my whole experience was the highlight of my trip. The best thing was probably just getting out there and seeing the world. There is so much to experience, that even in the four months I was in Merida, still felt like there was more to discover. It was a great way to genuinely get to know a different country and meet new friends.
The best part of my study abroad experience was probably going to Chiapas. Even though it was a long, bumpy trip, it was cool to see how there is so many differences between the different part of Mexico. Going to Chiapas was like going to a whole different country. I especially enjoyed the open-air market. You could get everything there, from keychains to shirts to wooden toys to jewelry and much much more. Everything was extremely cheap, and it was fun trying to haggle with the stall owners to get a lower price.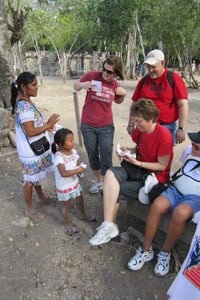 Morning: Monday through Thursday I would usually get up at 7 and then eat at 8ish. Since I lived at the Central House we always had a full breakfast provided to us with fresh fruit and everything. Then, I had 2-3 hours of class in the morning about the Spanish language and Mexican culture. On the weekends if we didn't have a group excursion to various ruins like Chichen Itza, cenotes, or other things, we would usually hit the beach or go down to the Centro (downtown) at 10am before it got too hot.
Afternoon: Usually after lunch on the weekdays I would siesta it up. Nothing is better than taking a quick nap to power through the rest of the day, especially when it was super hot. Then I would do the little bit of homework I had. It would usually take half an hour to an hour depending on the day. At least once a week a friend and I would go catch a matinee movie for 30 pesos or we would go to the Starbucks across the street from the Central House to enjoy some air conditioning.
Evening: Evenings were probably the best parts of the day. Depending on the day, I had service learning at the English Academy one day a week to converse with people learning English. Tuesdays and Wednesdays I had class, one of which was a Latin dance class that was kind of like Zumba. On the weekends my friends and I would usually go out to eat, to a club, or bar. Other times we would go down to the Centro to participate in the different things the city would put on like Noche Mexicana or Trova Yucateca, among other things. These two events happened every week and included traditional Mexican music and culture.