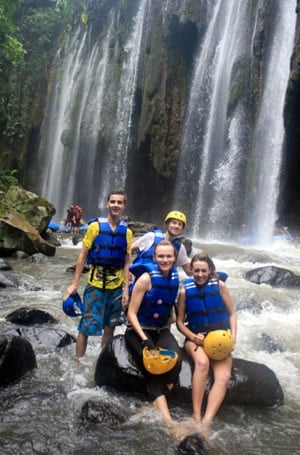 Highlights: The highlight of my work was definitely when I got an opportunity to speak on a local TV show. That was an amazing experience and probably I will never have this kind of chance again. I also was on the cover of a local newspaper. It is really hard to write about highlight of this experience within 150 words, since Indonesia is just such an amazing country. I got to see astonishing places with spectacular views, eat delicious food and be part of totally different culture and meet with people who are most positive and friendly people I have met. But definitely what I enjoyed most was travelling and those amazing places what I visited. It is impossible to write about them so I will just add pictures about some of the places what I visited.
Morning: As we are talking about business day, my typical morning started around 8.30-8.45. I woke up, brushed my teeth and went to work. If I was able to wake up bit earlier, then I also took a shower. Every single business when I was waking up, some guy with his scooter passed our house, honked his horn and screamed something. I still do not know what was that all about. Morning wake up call? Newspaper guy? Who knows. When I exit my house and garden, I saw an incredible view of an active volcano. With clear day it was just amazing, you could even see how it was fume from top. University where I worked was 2 minute walking distance from my house, but I still went there by scooter J. When I got to work, I made some cafe, bought some food from my university canteen and started my work day.
Afternoon: As I was working from 9 to 17, only spare time during an afternoon was lunch. From that I took out maximum, every day I spent about an hour for my lunch. I did not eat at my university canteen, not because I did not like the food there, but because I wanted to visit as much different food places as possible. I very rarely ate at canteen, when I did, then mostly because I had to work on something. So during my typical lunch I took my scooter and drove somewhere in the city. My coordinator from Internship-Indonesia was also working in the same university so I could lunch with him and he took me all the different food places around the city. If he could not come with me on a lunch, then I just drove randomly around the city till I found some interesting place to eat. I got lost in the city also couple of times. As I said, I always tried to took maximum out of the lunch, because it was only time during business days when I could see city on daylight and enjoy the sun. When I finished eating too early, I just rode around the city with my scooter and enjoyed myself.
Evening: As my working day ended around 5, I headed back to home. As describing my typical evening, it is quite hard, since there was no such thing as typical evening. There were so many activities what you could do after work. There was a football court near our house, so I went and played football there 1-2 day per week. Our university had an outdoor swimming pool, what you could use anytime you liked and I did. There were many places around the city where you could play video games and I spent some time there also. Also there were cinemas, but movie choice was not very wide. Also visited shopping malls, local stores and markets, language schools, town hall square etc. There was many things to do after work, but it was shame that it went dark so early. Sun went down around 5:30 so you were not able to see landscape. Also every evening as in lunch I went to city and tried to find a food place. What differs from afternoon and evening, during the evening you can find a lot more food places, mainly from the streets. There is lot more going on during evening when locals want to earn some extra money. They set up stalls on the streets from where they are selling clothes, posters, food, watches, basically everything.