Why did you decide to intern abroad with StandOut in Hong Kong?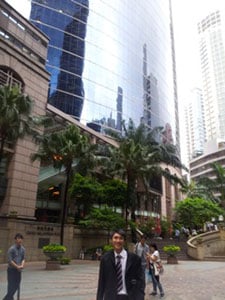 Sam: The main reason why I wished to apply for an internship abroad was because in the future I wanted to work in Hong Kong. As a British-born Chinese national, I have visited Hong Kong many times for vacations. However, holidaying and working in Hong Kong are vastly different entities. As such, I wanted to gain valuable work experience that would benefit me for future employment. Since I had just graduated from my undergraduate degree and will start my postgraduate degree (in Finance and Management) in October 2013, a summer internship would be ideal. From the job description of the internship I was offered, there were aspects of the role that is closely related to what I will be studying during my Masters program. Consequently, by undertaking this internship I could experience real-life application of what I will be studying. As this opportunity is the first internship I have done, it was also a chance to work in a professional, office environment.
At the time of applying, StandOut was the only organization in the U.K. that advertised internships in Hong Kong through my university. Whilst StandOut had recently set-up in Hong Kong, the company website appeared very professional and the program on offer was well structured. From prior research, I also found out that the company had great success in Australia and had an established internship program in Sydney.
What made this experience unique and special?
Sam: There are various aspects of the experience with StandOut that made it unique and special. For example, prior to commencing the internship, the staff at StandOut asked me what my main areas of interest are. This allowed the host company to tailor the internship to areas of the business in which I was keen to learn about.
Furthermore, the staff at StandOut works in the intern's best interests. As such, any potential issues that may arise from the internship could be openly to discussed to improve the experience. Thankfully, during my 8-week internship, there were no such issues that needed to be addressed.
Originally, the internship was advertised as unpaid. However, the staff at StandOut managed to agree a monthly salary with the company that I worked for. This unexpected benefit helped to relieve some of the financial burden since it helped cover some of the costs such as the transport and food.
Finally, after my internship, the managing director of StandOut agreed to meet with me to discuss improvements and updates to my CV. Her wealth of experience has been highly beneficial and during my meeting with her; she also gave additional advice as to how and when I should apply for graduate opportunities in Hong Kong.
How has this experience impacted your future?
Sam: From a professional perspective, the internship has helped me develop some of the soft skills that are so highly valued in business. For example, throughout the internship I have been working along side another intern. This other intern has come from a very different academic background; I had just graduated from a chemical engineering degree whilst he was studying for a degree in philosophy. As such, I believe that this has helped me analyze problems and tasks from a different perspective since our thought process varied significantly. I think the internship has also improved my time management and organizational skills since there were times during the internship where I was required to meet tight deadlines. Whilst working, there were some projects, which involved significant research on market trends in Asia. Some of these tasks required significant analysis, which I thoroughly enjoyed. Consequently, a career path I may wish to pursue in the future would be an analyst role in the financial sector. Personally, the experience has reinforced my aspiration to work in Hong Kong for the long-term future.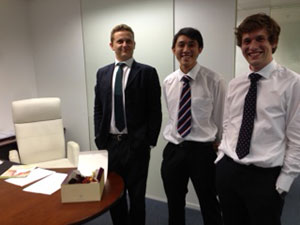 What was the highlight of your experience?
Sam: The highlight of my experience in Hong Kong were the talks held during the 2-day professional development-training course. The first speech was by the director of GraduACE, a company that manages the graduate selection process for organizations in Hong Kong and China. During his talk, he presented us with valuable information on applying for graduate positions, the numerical and verbal reasoning tests; and the assessment centers. The second talk was by one of the advisors for StandOut who has been working in the banking industry for many years. Her informal talk was based on her personal experiences of presenting to senior management in her company. Within her speech, she gave very useful advice on the most effective ways of presenting information to an audience.
What is one piece of advice you would offer someone considering interning in Hong Kong?
Sam: The one piece of advice I would suggest to someone considering interning abroad in Hong Kong is simply to be fully committed to all facets of living and working in Hong Kong. Interning abroad can be relatively expensive; in particular accommodation is very costly. To maximize your overall experience; if required, be prepared to work past the contracted hours of the internship to ensure that the projects are completed and to the best of your abilities. There may be days during the internship when the workload is quite light; in these instances, you should be proactive and ask your supervisor if there are any tasks that you could help assist. Throughout the internship, be prepared to adapt to the local business practices and etiquette as this may help you gain respect from your work colleagues since the concept of 'face' in Chinese culture is highly regarded. During the weekends and after work, you should try to take every opportunity to explore the city and it's culture; and also attend any available talks that are set up by the internship organization, as these may be useful for the future.