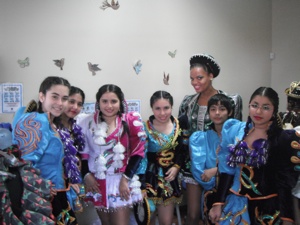 Why did you decide to teach abroad with Chile in English Opens Doors?
Denisha: I decided to teach abroad with EOD because I have a found interest in learning about other places and cultures; I believe that traveling to different places, as well as allowing yourself to be immersed into the culture over an extended period of time, fosters a very enriching experience. All throughout college I volunteered working with youth, which I find very rewarding and I was excited to have the chance to work with youth again in another country. In which, I can share not only my native language but also my culture and life experience and in return, have the chance to learn about theirs.
In the past, I studied Spanish but never traveled to a Spanish speaking country, though I have always had the desire to do so because I really enjoy volunteering. So, when I came across this opportunity I didn't hesitate! I also appreciated that the program didn't charge a participation fee. I felt reassured that it was a government organization and that they provided me with room and board throughout my participation.
What is one piece of advice you would offer someone considering teaching abroad in Chile with English Opens Doors?
Denisha: I would encourage any and all volunteers to be flexible. The program is very upfront about their expectations of participants as well as providing realistic expectations of what to expect from the program. With that being said, sometimes things happen, which are out of the participant's and the program's control. That doesn't mean you cannot raise concerns about an issue you are having but try to be understanding and willing to work with changes as they come.
Volunteers should remember that other countries have their own systems, which may not always be as convenient, understanding is a must. Last, I would encourage volunteers to prioritize; yes it is fun and exciting to live in another country and they may desire to do a lot of traveling, but they should remember why they signed up with EOD and remember that they are carrying out a very important task – which is also very rewarding!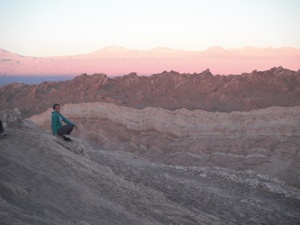 How has this experience impacted your future? (Personally, professionally, etc)
Denisha: Well, this is my first time in South America and working in a high school; almost everything about this experience is special. As I stated before, unlike other programs, EOD doesn't charge a participation fee, so the money I would have spent in another program is used for my daily living expenses. I really enjoy my host family and my school is really close to our house, so I feel like a part of the community.
I believe this experience will assist me greatly with my future endeavors. Professionally, if I work back in the US, I can highlight my ability to read, speak and write in Spanish. I can also use my experience to demonstrate my commitment and ability to work with people of diverse backgrounds. Furthermore, I would very much like to continue on with my travels and in doing so; I can use this experience as a platform to carry on!