What is one piece of advice you'd give future IES Vienna students?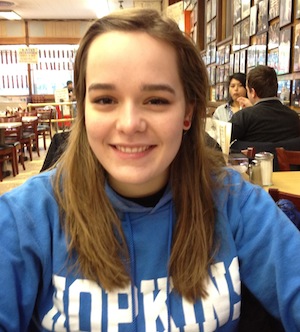 Maggie: I love the IES program. It is a great staff, wonderful faculty, in a beautiful palace (yeah, I have class in a palace everyday!). However, it can often times become a bubble. If you don't put in a little bit of extra effort, it can be very easy to only speak English to other IES students, only see IES buildings and apartments, and generally cut yourself off from Vienna. I would highly recommend against this. Try to do something outside of the IES bubble as often as you can.
This can be going to museum or traveling on your own. This can be taking university classes or sports classes. Getting a language buddy is also a great idea. Try to do something new in the city every single day. Also, consider doing an internship. I am doing the teaching internship, and it has been one of the most rewarding experiences I have had so far.
Why did you decide to study abroad?
Maggie: When planning my semester abroad, I talked with some of my friends who had all studied abroad. They each told me that one of the most rewarding things about their experience was the improvement of their language skills and the things they learned from not being able to speak English all the time. I have taken German for over eight years and love the language. Additionally, when I was in high school, I did a two week exchange program with a school in Graz, Austria. When I was there, I spent three days in Vienna. These three day were the best of my trip and enough to convince me that I had fallen in love with Vienna.
I decided that I had to come back at some point in my life. IES Vienna was the clear choice once I had decided on Vienna. They provided the most interesting classes, the most unique opportunities to get to know the city, and the most passionate staff. I had only heard amazing things about the program.
Describe your program socially and academically.
Maggie: IES Vienna has about 130 students. Although it was overwhelming at first, I find the larger number of students to be a great thing. I am still meeting people even 2 months into the program. There is always someone to go exploring with. I never find myself lonely, nor does anyone else. In general, IES students are very passionate and interesting people. They have a wide range of talents and interests and I am never bored when around them. In terms of academics, it is not what I am used to in the slightest.
Granted I am a science major who now has to transition to a completely language/humanities course load. But I went from studying 35+ hours a week to studying less than 10 a week. I don't want to give the impression that no one does any work, it is just more manageable. I think it is an appropriate amount of work that still allows me to learn new things and yet still have time for travel and exploring Vienna.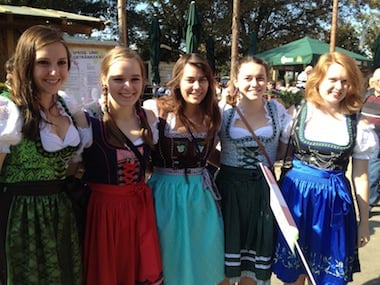 Where was your best photo taken and what was it of?
Maggie: This was a really difficult decision. But I chose a panorama picture taken at the Erlaufsee during orientation. All over Austria there are tons of valleys that have beautiful, crystal clear lakes in the middle. I think it is difficult to summarize the natural beauty of a country like Austria, but this picture certainly takes a stab at it.
Did you run into a language barrier while studying abroad in Austria?
Maggie: I don't find the language barrier to be too overwhelming. But then again, I came to Austria with the goal of pushing the limits of my German knowledge. So I have been more than happy to speak in German as much as possible. Whenever I have traveled outside of Austria, I actually become so stressed because I know I won't be able to communicate. When I went to Hungary, I didn't even know how to say please and thank you. I actually missed the more reasonable challenge of German. I certainly think I came to Austria believing my German was better than it actually turned out to be. However, I can easily say it has improved dramatically since I have been here!