How has this experience impacted your future?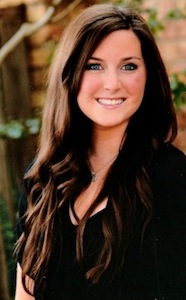 Elle: My experience abroad has impacted my future in every possible way. I left not knowing anyone else in the program, and I wouldn't have done it any other way. It was amazing getting to know students from all over the U.S., and I made some incredible memories with people I consider lifelong friends– several of whom I have gotten the chance to reunite with here!
Academically, the program was the perfect way to round off my art history credits that are required for my major, but most importantly were the lessons learned outside of the classroom that will help me later on in my career. Without even realizing it at the time, I developed better problem-solving skills, learned how to adapt quickly in a variety of environments, and enhanced the way I communicate with others.
What did AIFS do for you and what did you need to do on your own?
Elle: Since I booked my flights with AIFS, transport to and from the airport were taken care of and they also arranged it so we were able to meet others in the program at the airport and were shuttled to orientation together. Being that we were constantly on the move for this program, we got to stay in hotels or short-term apartments in each city, where we were provided breakfast every morning. Ranging from a full English breakfast in London, to the tiny portions in Paris, to balcony buffet dining in Venice, it was fun arriving to each new location and getting to try what a typical breakfast is for each culture!
Morning lectures were usually followed by a field trip to a museum pertaining to the lesson, with the entrance fee pre-paid for by AIFS. Transportation between cities was provided– a ship to Holland, buses and trains to everywhere else. The program also included sightseeing tours in every city and in some cases surrounding areas, like getting to visit Monet's Garden in Giverny, France. During the first week, AIFS organized a party boat cruise down the Thames River for all of the American students studying through Richmond– it was an absolute blast!
Describe your most meaningful souvenir and why you love it?
Elle: My most meaningful souvenir is a pretty nerdy one. I have been a devoted Harry Potter fan since the age of 8, so the U.K. holds a special place in my heart for more than one reason. I bought a ticket to the Warner Bros Tour at Leavesden Studios before I even got my acceptance letter from AIFS! A week of prancing around Kings Cross taking pictures at Platform 9 & ¾ and getting to see J.K. Rowling's hand-written manuscript at the British Library was topped off perfectly with a Saturday spent out in Watford exploring the movie sets (and maybe crying a little bit like a crazy person).
Before leaving, I purchased the British copy of the seventh and final book. I love it the most out of everything I bought not only because my love for Harry Potter, but I see it and the Philospher's Stone (from my first visit to London when I was 13) on my bookshelf as a reminder that I have to keep going across the pond to complete my collection.
Do you feel you got a chance to see the city from a local's perspective?
Elle: The program's pace doesn't allow you to become too adjusted to a city– once you began to feel settled it's time to go! With that, I was still able to gain a glimpse of the local perspective thanks to simply venturing out and meeting locals themselves– you just have to be friendly without forgetting your street smarts! For example, while on the London Eye, the group I was with couldn't help but notice a giant purple cow tent nearby.
After our ride was over we walked over and discovered that it was a beer garden and comedy festival called The Udderbelly. The place was packed and we ended up becoming friends with a group of locals that were more than happy to talk to us, give advice about London and other the cities on our itinerary, and not to mention beating us in a game of oversize connect four… We had similar encounters in each city we went to, so although you don't have the immersion you would get out of traditional programs, I definitely got to sample a little bit of everything!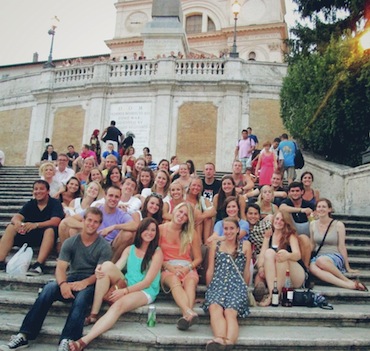 Did you run into a language barrier? Did you ever think you knew more/less of the language?
Elle: I ran into language barriers in every single city– yes, even London! We may all speak English, but there are many words that we both use but mean completely different things.
Some differences are innocent, like our opposing definitions of "football"…but on the other hand, "pants" in the U.K. means "underwear," so complimenting someone's outfit can get very awkward if you aren't careful.
Although no one from the states would say I have a Texas accent (I really don't), many people overseas told me my accent was difficult to understand, and the word "y'all" was received with blank stares. Unlike most of America, it's common for people in other countries to know their native language as well as English, and probably several others– our Irish tour manager could speak at least 4. Most of the time we were able to communicate in English but if all else failed, it turned into a slightly embarrassing game of charades.