Why did you decide to intern abroad with Azafady Conservation Programme in Madagascar?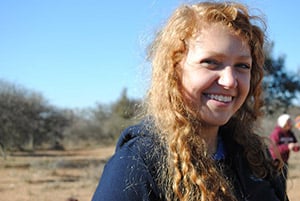 Johanna:Ever since I can remember, conservation of the environment has always been a huge interest of mine. As I grew up, I was constantly looking for opportunities to work with wildlife and in nature abroad. In college, as I browsed tirelessly through study abroad programs and volunteering projects overseas, I was disappointed to find few programs that offered its participants the chance to have a true, hands-on experience working in conservation. Azafady caught my eye because it was an organization that was dedicated to the conservation and enrichment of the environment in which they operated in southeast Madagascar. This is an organization that devotes their efforts to a holistic approach of improving the state of the environment and also of improving the lives of the people through sustainable living practices, health, and education, which is exactly what drove me to become so apt to join their team as a volunteer.
What made this experience unique and special?
Johanna: Volunteering for Azafady is a very special experience for many reasons. One of the most heartwarming was the personal interactions that I, and every other volunteer, was able to have with the local people. Because Azafady is so closely involved with the communities it works with, we were constantly able to spend time talking and working with local people. This gave us a one of a kind look at the culture and language of Madagascar and made an unknown, unfamiliar place into a home. Another unique part of my time with Azafady was the extensive amount of things we all learned in our time there. We learned a multitude of things about all the different animal and plant species we were working with, about language, about culture and customs, even politics, but without the standard classroom setting.
How has this experience impacted your future?
Johanna: This experience has impacted my future by showing me that anything and everything is possible if you work hard and do things with virtue, the same way Azafady runs. It has given me confidence in knowing that conservation is the career I want to pursue, and has inspired me to bring the goodness of Azafady back home with me to the United States. My time with Azafady has also been beneficial in gaining other volunteer and research positions here in the United States and has helped me in my search for graduate programs in conservation biology and natural resource management.
What was the highlight of your experience?
Johanna: The most fulfilling experience I had while volunteering with Azafady was (believe it or not) the day to day work. Having the opportunity to trek through the littoral forests of the region, see such incredible flora and fauna, and to do so with wonderful and knowledgeable local guides and researchers was an absolute dream. Also, the work we did with the children in the area we were based in was equally heartwarming. We were able to teach about the environment and conservation (we played games too!) to children who normally would never have the opportunity to have such lessons.
What is one piece of advice you would offer someone considering interning/volunteering abroad in Madagascar?
Johanna: For anyone considering interning or volunteering in Madagascar with Azafady, the best advice I can give is to trust Azafady's team. They are experts in what they do and give tons of helpful information on every aspect of your time before, during, and after you are in Madagascar. I had my own mishap of a lost bag, and Azafady was swift and sound in making sure that I was completely taken care of from beginning to end. They are also excellent in outlining what gear you may need and are very helpful in any situation you may encounter including booking flights, contacting home while away, and so on.