Why did you decide to study abroad with AIFS in India?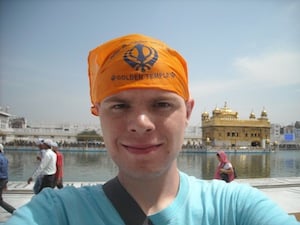 Simon: I chose AIFS for several reasons. First off, they did India's famous Golden Triangle Tour (which includes seeing the Taj Mahal and Jaipur "Pink City") right when we got into the country, all expenses paid. It was nice to do the super touristy stuff with guides so we wouldn't get swindled (that much!). They also did a tour so some famous Buddhist, Hindu, and Jain caves in Ajanta and Ellora.
Second, they had a great director, Sumana Kasturi, who always helped us out when we needed someone to talk to, and give advice on matters regarding travel, culture, and all that fun stuff. She also knew all the great restaurants, yum :).
I should also mention her awesome assistant Upendra, who was a great friend to have. Finally, the program was a bit customizable on what we wanted to do. We got to make our own Indian miniature paintings, pillow casings, and kurtas (Indian shirts)!
What was the best place you visited outside of your study abroad city?
Simon: The best was a tie, Amritsar and Dharamshala, when I did some independent traveling at the end of my program. Amritsar houses the Golden Temple, the holiest place in Sikhism, which was simply beautiful to witness. Everyone is allowed in the temple complex as long as you cover your hair (both men and women), regardless of race, religion, sex, or anything. The openness is stunning. Mcleod Ganj, Dharamshala, is up in the mountains and where the Dalai Lama lives in exile. Because of this there is a huge Tibetan diaspora, giving you the feeling that you're in another country. All the Tibetan restaurants have the Dalai Lama's photo, and the gifts you can find are one of a kind!
Describe your favorite must-have food that you tried abroad.
Simon: That's a tough call. In Hyderabad the best dish was Hyderabadi Chicken Biryani, a mix of Chicken, rice, and spices. The restaurant Paradise is where you're told to go if you want to have it, but I found some little places which were just as tasty. Up in Dharamsala I got to try some Tibetan Vegetable Thenthuk Soup, which is a nice mix of square noodles and said greens warmed up to perfection. I also have to give an honorable mention to the dessert sugar draped dough ball Gulab Jamun, Sugarcane juice drained right from the stock, and Tandoori Chicken and butter naan meals at our dorm. But honestly I have to settle on Dosa Night at our hostel. Dosa, a South Indian dish, is crepe like which has a crunch and flavor to it. Every so often the cooks would do a Dosa Night, where we got to add egg, chicken, masala, and a whole bunch of other things to the mix. The best night was dosa night!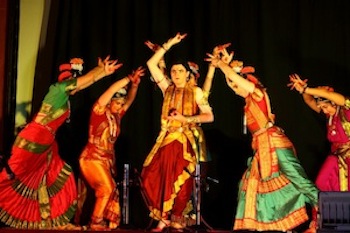 Tell us about any interesting cultural tidbits you noticed about your country.
Simon: There were many. Being a westerner we were noticed and pointed out a bunch, and many families wanted to take pictures with us! That was hard on us when we were bartering though, as we had to fight to get the price down in markets to pay what the locals would pay. We also had to accept the fact that many people including professors ran on "Indian Time," always being a bit behind schedule (anywhere from five minutes to an hour, no big deal). And how many Indians use an influx of emoticons in their texts and messages, how people asked for your "good" (i.e. real) name when first meeting you, and so many other things which I can't even begin to describe.
If you could do-over one thing, what would it be?
Simon: Do a homestay. Although the hostel I stayed in was great, I do regret not living with an Indian family to learn the culture through that level of immersion. That's not to say I didn't make any Indian friends though, as I got to spend time celebrating Indian holidays with our Hindi teacher Bhavani and her adventurous little girl Tanvi! And I met many a friends through an independent study on radio production in the communication department; they showed me many sides of the city I never would have known about. These bonds will last a lifetime, and I'm so happy to have forged them.