Why did you decide to study abroad with CET in Prague?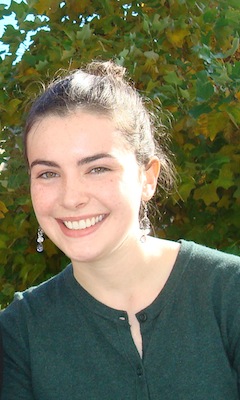 Molly: I wanted to find a program that fit my major, so I searched UNC's study abroad website for programs relating to religious studies. CET's Prague program immediately caught my eye because I have always enjoyed studying Judaism, and I liked that the program provided Jewish Studies learning opportunities both inside and outside the classroom.
The location in Prague appealed to me because I have long been interested in Central and Eastern Europe. I had taken some Russian at UNC and hoped to study in a Slavic-language speaking country. The Jewish Studies in Prague program was a perfect combination of my interests!
What made this study abroad experience unique?
Molly: One of my favorite aspects of the program was that CET places a Czech roommate in each apartment. Our roommate Alžběta cooked Czech food for us, helped us in situations where English was insufficient, and showed us a side of Prague we would not have discovered on our own.
Hearing her perspective on Czech history and contemporary issues helped me reflect upon what I was learning in class, and in our conversations we learned a lot from each other about life in our respective countries. Alžběta has become one of my dearest friends, and our friendship provides me with a lasting connection to Prague and the Czech Republic. It's great to know that I will have someone to stay with on my next visit to Prague!
Another unique part of the program was the opportunity to participate in a service learning class. Each week, the class met for a guest lecture about issues in contemporary Czech society, given by experts studying these issues. We also each had a volunteer placement, and mine was with an organization that does research about the Holocaust in the Czech lands. Part of my work there involved interviewing a Holocaust survivor for my final project. Service learning was a challenging and rewarding experience that provided a unique way to connect with Czech society.
Tell us about any interesting cultural tidbits you noticed about your country.
Molly: One thing that struck me was just how many streets in Prague seemed to be named after or to have a plaque commemorating a particular writer. Overall, Czechs seem to be very proud of their literary history, a pride which is reflected in the landscape of the city.
Where was your best photo taken and what was it of?
Molly: One of my favorite photos is one that I took in Nové Město nad Metují, a small Czech town about two hours outside of Prague that I visited by myself one day. The photo shows a picturesque scene of houses nestled in the hills, with a soft haze of smoke in the air, like so many beautiful towns I saw while traveling across the Czech Republic. This photo reminds me of how adventurous I felt that day exploring the area on my own, especially as my new Czech language skills were quickly called into action!
How has this experience impacted your future?
Molly: Personally, this experience gave me confidence in my ability to handle new and unfamiliar situations. I will never forget how proud I was to lead my family around Prague feeling like a local, especially when I took my dad to a crowded lahůdky (deli) for lunch and was able to step in and use Czech to rescue him when he tried to order and realized that no one working there spoke English. It also showed me that living abroad is something I want to do again in the future, and hope to do soon!
Academically, the program challenged me to think about Jewish history and lived experience in new ways. For example, while on our travel seminar around Central Europe, we visited the Polish town of Oswiecim, known often by its German name Auschwitz, but not as often by its Yiddish name Oshpitzin, given to it by the Jewish residents who lived and thrived there for centuries. Overall I learned infinitely more about Central-Eastern Europe than I ever had before. Though I had previously learned about World War II and the Communist era, studying this history from a Czech or Polish perspective caused me to reflect on the American perspective from which my prior knowledge had been taught. Both in and out of the classroom, I gained knowledge and a new lens with which to approach issues in my studies of religion and history.