What inspired you to volunteer with Rustic Pathways in Peru?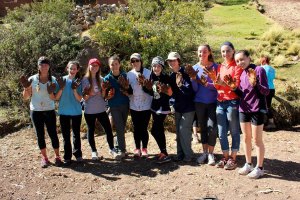 Amelia: I've always loved to travel. My family and I would take trips to Vermont, Florida, and Maine when I was younger, and as I got older I would spend my summers being shuttled from one vacation with a friend to another.
Two years ago I was trying to decide what to do that summer so I Google searched "teen travel programs" and Rustic Pathways was one of the first links. I knew I wanted to volunteer, not just study or sightsee, and I also had a general sense of where I wanted to travel to. After reading a lot of reviews for Rustic trips I decided to volunteer with them in Fiji.
After that trip, I promised myself I would go on another trip with Rustic, so the next summer I asked my friend Grace to go on a Rustic trip to Peru with me. I decided on my particular program, Lake Titicaca Service Adventure, because of the fusion of sightseeing (Machu Picchu!!) and service.
Describe your day to day activities as a volunteer.
Amelia: Our volunteering days were pretty standard as far as volunteering days went: we'd wake up around 6 or 7, eat breakfast, hike over to the clearing where the greenhouse would be, and continue building. Each day we added a little more to it, so some days we'd collect and lay down rocks for the base, others we'd move the adobe bricks.
The entire time, though, we'd be having a blast, getting into mud fights and all. We would usually finish by lunchtime so we had the second half of our day to ourselves, which was nice.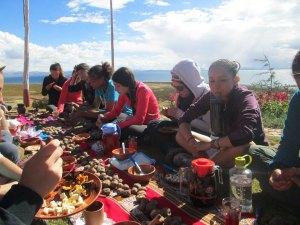 Tell us about one person you met.
Amelia: I met so many amazing people on my trip that I feel bad saying just one, but one person that I will never forget has to be one of my trip leaders, Alejandro. Alejandro, his nickname was "Ale-alejandro" like the Lady Gaga song, is probably one of the nicest people I have ever met.
When a girl on my trip got the stomach flu, he spent the entire day with her and rushed her to the clinic. He would tell us stories about all the places he traveled to, and he had this great sense of humor.
I cried when I had to leave him at the airport on the last day. My friend Grace, who never cries in public, she hates it so much, cried when we had to leave him. We all loved him so much, and I'm so happy I got to meet him.
What was the best moment of the trip?
Amelia: If I had to sit down and think for a long time, I could probably decide on one moment that was "the best" of the trip, but I really can't do that. There are a collection of memories that come to me when I think back to those two weeks. After building the greenhouse, we'd pick a team of soccer players to represent Rustic Pathways against the village's soccer team and fight to the death for the title of Best Team.
I liked sitting on the sidelines, squished between my friends, braiding each other's hair, taking pictures, and laughing. And the moment when we finally finished the greenhouse, which took so much work but was so worth it because that village really needed it, is still comparable to none. Comparable, maybe, to reaching the top of Machu Picchu after hiking for two hours and thinking I was going to drop dead any second.
The very last night, too, everyone on my trip, including my amazing trip leaders, sat around in a circle after dinner and talked and talked about the entire trip and shared our favorite memories, and I had such a sense of camaraderie and belonging.
What did you learn on this trip that stuck with you most?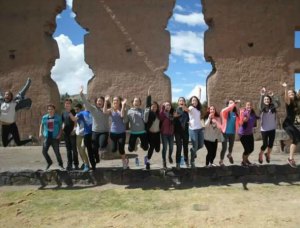 Amelia: On this trip, I reconfirmed the knowledge that people in the United Staes can be much better off than a lot of people in other countries. In the US, people take everyday things for granted: clean running water, hot showers, a variety of food.
Peruvians get by on meals of soup and potatoes almost every day. By traveling and broadening your outlook on life, you will become more appreciative of the things you do have, and, for me at least, be moved to want to help those who don't have as much, inside and outside of the US.
Volunteering doesn't have to be building a greenhouse or implementing English programs at an international school; it can be something as easy as cooking a neighbor dinner.