How has your volunteer work affected the community in Tanzania?
Lisa Grant: Tanzanians do not know English as well as many of the neighboring countries, so seeing teachers that have come to teach English is a very positive thing for the community.
As a volunteer, I have tried to integrate myself into the community. There were so many needs within the community, it was easy to want to reach out in other ways, but having directly experienced the challenge of teaching literature with 8 books for 80 students, I was particularly struck by the need for books. Addressing this need not only felt like an imperative, it felt completely feasible. It felt good to think I could actually help establish a library full of the literature books, which students must know for the national exams.
When I return to school in January, I will be returning with literature books to put in the new school library, which is a former class room that the Headmaster designated [as the library]. I paid for the books myself, but will be trying to fundraise to help offset the cost and to be able to purchase even more books.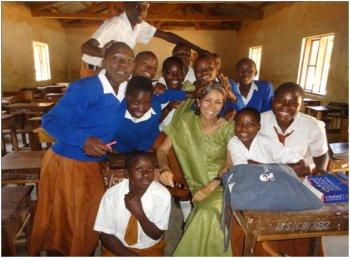 Matt Mills: My volunteer work has had a satisfying impact in my local community in Tanzania. The most prevalent impact that I have had is providing my teaching services in classes that did not have an English teacher before I arrived. There is a severe shortage of teachers in many schools in Tanzania, so there are often many classes that don't have teachers. I have also had an impact by providing a few school supplies and books from the U.S. that the schools have found to be quite useful. Finally, I feel that through an exchange of culture and ideas that I was able to impact the community around me.
What is the most rewarding part of being a volunteer teaching abroad?
LG: Just the fact that I could get students to speak and correct some basic mistakes was very rewarding to me. I constantly told the students that mistakes were necessary to learn, and gave them positive feedback to further encourage them and I saw a difference in class participation.
I am encouraged to see them encouraged. It is my greatest reward and makes me want to be even more effective in teaching them English because it is still very challenging.
MM: The most rewarding part of volunteering/teaching abroad is knowing that you are helping provide students with an opportunity to succeed in ways that they didn't have before. Learning English is incredibly important for students in Tanzania, so knowing that I was able to help serve a need that was not always addressed efficiently enough was incredibly rewarding.
What has your relationship with World Teach been like and what have they done to assist you?
LG: I felt their support right from the beginning and it has continued on a regular basis. First they mailed me a lot of material to review and learn about the program, in preparation for teaching. It continued with the training in country for almost a month, which consisted of different sessions on different approaches to teaching, and even some language instruction.
MM: My relationship with WorldTeach has been incredibly supportive from the start of my journey and well past my return. WorldTeach has always provided welcome and efficient support from pre-departure, to in-country support and even in the months after I completed my service. They provided many useful materials to aid in my fundraising for my trip and to fully prepare for the year ahead. In-country there was constant field support in the form of a dedicated field-director, and regular check-ins to monitor progress and well-being. In the time since my return, WorldTeach has stayed in touch through alumni newsletters, job postings and referrals, and occasional check-ins to see if they can help assist me in any way.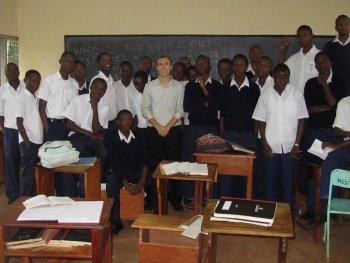 What are the benefits of going through WorldTeach or a similar organization?
LG: WorldTeach has the full support of Tanzanian government. They have a contract with the Ministry of Education, which pays me a monthly stipend. During training our group met with the Secretary of Education, and visited the embassy. It's nice to feel [that] I have the full support and encouragement of so many people working in either the Tanzanian or United States government. Volunteering in association with a reputable organization gives me a sense of security, which I think is important being so far away from the comforts of home and my loved ones.
This is the second year that WorldTeach has been in Tanzania - although the organization is over 25 years old- so there have been a few bugs to work out here and there. But they not only are competent, they are willing to listen to your suggestions, which I really appreciate.
MM: The benefits of going through an organization like WorldTeach are that you know you will receive a great system of support that will ensure that you have all of the tools to succeed while teaching abroad. Since WorldTeach has been around for a number of years, they have a dedicated and well-established system in place so that you can have the most effective and rewarding experience possible. WorldTeach also provides you with the flexibility to form your own experience as much as possible, as opposed to other programs where you might not have as much flexibility (like choosing your country of service, work duties, etc).