Why did you decide to volunteer abroad with Give a Heart to Africa Women Empowerment in Tanzania?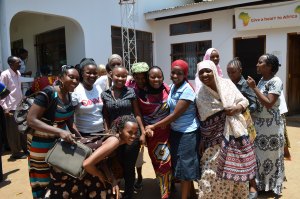 Janet: I wanted to do a volunteer trip to Africa and decided that I would like to work with adults, especially women. I chose Tanzania because it is a safe, democratic country with many places I had heard of: Mt. Kilimanjaro, Serengeti, Zanzibar.
I read reviews of many volunteer organizations and GHTA was the one I kept coming back to. I liked that it is 100% volunteer run, not even the director, Monika, gets paid.
The number of volunteers is small (6 at the most) and I figured that would allow me to be a completely involved, hands-on volunteer.
I wanted to work with the students not sit in an office doing paperwork. Moshi, where GHTA is located, is urban but not overwhelmingly large like Arusha and Dar es Salaam. I liked that the volunteer house is in a nice neighborhood next to a university.
I did a Skype interview with the director, Monika, before making my decision. She was very open and friendly, and answered all the questions I asked about volunteering at GHTA.
Describe your day to day activities as a volunteer.
Janet: Monday through Thursday, 9:00 am to 12:00 pm are school hours. Students are divided into 3 groups and rotate through 90 minute classes each day/week. Classes taught are English, Business, and Math/Vocation. I taught Business classes (and I have no teaching or business experience) using the curriculum provided and with the help of the business class translator, a former GHTA student.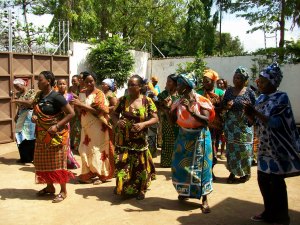 Fridays are home visit days. Volunteers, Monika, and a translator travel to the selected student's home to see where and how they live and to meet their families. Although sometimes there are afternoon or weekend activities (we did an all-African women Waka Waka Flash Mob at the Moshi bus station – great fun!) normally the volunteers are free to do whatever they like during those times.
The volunteers are responsible for their own breakfast and lunch. There are markets in town where you can buy just about anything you can get at home including yogurt, cheese, peanut butter, chocolate, wine and beer.
There are also outdoor fruit/vegetable markets and bakeries. Dinner is served at the volunteer house each night except Saturday (go out to dinner night).
Moshi has some nice restaurants and there is no shortage of Indian food or brick oven pizza. There is time for side trips on weekends with other volunteers: safari, tour a coffee plantation, day hike on Mt. Kilimanjaro.
What made this volunteer abroad experience unique and special?
Janet: I loved my entire time volunteering at GHTA but what made my experience so special was the GHTA students themselves. The women are incredibly strong, hardworking, and caring.
They arrive on time with smiles on their faces, often with gifts for the volunteers - eggs from their chickens or mendazi (a donut-like cake) that they made themselves. While I was at GHTA I got to know the students pretty well and their resilience surprised me every day. Some of the women come from homes where their husbands drink heavily and are abusive.
They live in small one room cement houses usually with no running water or electricity. Their daily lives are difficult and filled with obstacles but they came to school every day prepared to work hard and better their lives. They really changed my perspective about life and how much I take for granted.
Tell me about one person you met.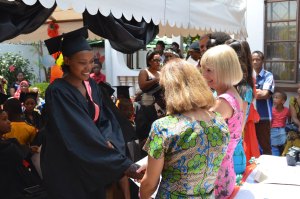 Janet: One of the students, Zuwena, came to GHTA never having attended any formal schooling (we didn't know this until she was about to graduate). When I was at GHTA in November 2012 (the one year course started in October) she was extremely quiet, did not know any English, and barely would make eye contact with you.
She is in her early 20s and worked as a house girl (maid) for a not very nice family in Moshi. They told her that if she wanted to go to GHTA she could still work for them but she would not get paid.
When I returned to GHTA in September 2013, Zuwena, had transformed into an outgoing, friendly young woman who could speak English and would kiddingly chastise her fellow students if they lapsed into speaking Swahili (after 6 months the students are supposed to speak only English while at school).
At graduation her entire family came from Tanga (hours away) to celebrate her accomplishment. She had all the volunteers, including the men, close to tears when she explained that before she came to GHTA she was not worth anything but now, because she has an education, she has value.
A family member of one of the volunteers is sponsoring Zuwena and she will start studying computers and IT at a local technical school in January 2014. I think she has a bright future ahead of her. You can't help but be inspired by Zuwena's story.
How has this experience impacted your future?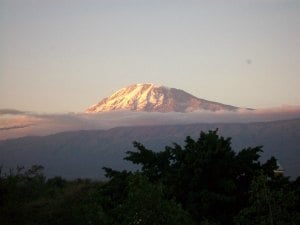 Janet: While volunteering at GHTA the first time, I decided that I wanted to travel back for the students' graduation because they became like family to me. They touched a piece of my heart and became a part of my life forever.
I told them I would bring my husband when I came back for graduation, and I did. My husband loved being at GHTA and also can't wait to volunteer again.
We plan on going back in 2016. We have even discussed going back to volunteer at GHTA for several months at a time each year after we retire. My 25 year old daughter will be volunteering at GHTA in 2014 for 5 months. We are also sponsoring some of the graduated students by either sending them to university or setting them up in a small business.
With Facebook and email we are able to stay in touch and get updates on how things are going. I am still in contact with the volunteers I met while I was at GHTA as well as with Monika. GHTA has become a very important part of our lives.