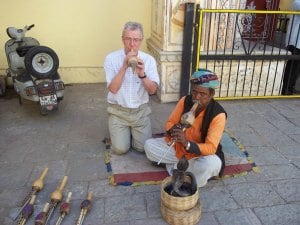 Why did you decide to volunteer abroad with Volunteering with India?
Eric: I've always wanted to visit India. My wife didn't want to holiday in India for all the "obvious" reasons -- poverty, pollution etc. I therefore decided that the best way to properly experience the country was as a volunteer. I chose VWI after studying the numerous websites that offer volunteering opportunities.
It's a bit of a minefield but the web-site looked authentic and my subsequent on-going communications with them convinced me of their credibility. The cost was very reasonable compared to many other organisations, and they offered a pick-up service from the airport, full board and lodging facilities and sight-seeing as part of their "package."
The cost for the first week was £220 and subsequent weeks cost around £100. VWI gave a detailed breakdown of the distribution of the money which again helped me to gain confidence in working with them.
They offer various programs based in Jaipur, and I chose to teach children in a rural school --- I like working with children and I'd previously done voluntary work with youngsters at home.I chose a one week duration because: 1) if I didn't enjoy the experience I'd be back home quite quickly; 2) if I did enjoy the experience then I could always return for a longer period.
I chose to travel in November ( 2013 ) because of the favorable weather conditions at that time.
Describe your day-to-day activities as a volunteer.
Eric: I worked every afternoon from Monday until Friday, which meant that I had mornings free to explore the "Pink City". Myself and Marlene ( my VWI colleague, a 25 year-old New Yorker ) had breakfast at our digs and then walked daily around the nearby area. This included the Vegetable Market, City Palace, Hari Krishna Temple and Jai Niwas Gardens. The place is chaotic but very exciting.
Teaching the kids was an exhilarating experience. There were normally about 40 children in class: Marlene took the older set and I looked after the younger ones. I taught basic English -- the alphabet, simple words and phrases -- and simple mathematics. It was difficult as the kids didn't understand English and I didn't speak Hindi.
Our Indian colleagues helped to translate and I'd like to think that the end product was successful. The children were certainly enthusiastic and happy at school. They seemed to enjoy the attention and were eager to show me what they'd learnt.
I stayed at a guest house run by a very nice Indian family -- mum, dad, one son and three daughters. There were 3 VWI volunteers staying there -- myself, Marlene, and Miguel, who is 25 and from Portugal. We ate basic but perfectly nice vegetarian food and were well looked after. We each had our own room and, although I had no hot water due to faulty plumbing, I used Miguel's shower daily so everything was fine.
What made this volunteer abroad experience unique and special?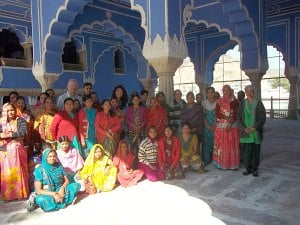 Eric: So many aspects of my trip to India were memorable because I was "out of my comfort zone". Nothing can prepare you for your first visit. Take the traffic: the space is shared by dogs, cows, monkeys, pigs, pedestrians, bikes, rickshaws, tuk-tuks, scooters, motor-bikes, cars, buses and lorries.
Throw in the odd elephant and camel, take into account the continuous honking of horns and sheer volume of traffic and you may get the picture! My first 20 minute journey from my digs to school in a tuk-tuk was an incredible experience Terrifying but exciting.
Then there is the poverty and pollution. It really is an eye-opener and takes some getting used to. However, most people seem happy and content in their own environment. As I understand it, the caste system in India dictates aspiration, and this is accepted by everyone.
I also enjoyed living with an Indian family. I ate with them, and tried my best to adopt to their culture of using the right hand when handling food, often to their great amusement! I drank bottled water only and escaped the infamous "Delhi-Belly" problem.
Shopping was also fun, with the cut and thrust of bartering and haggling over prices a constant but enjoyable experience. The presence of so many wild animals at such close proximity was a little unnerving -- I never relaxed when walking past the dogs or monkeys, even though I'd taken all the necessary medical precautions.
Finally, the colour, the noise, the hustle and bustle and the smells ( some nice, some not so nice ) of the country make it a fascinating place to visit -- a truly memorable experience.
Tell me about one person you met.
Eric: I met many interesting people during my visit, including my 2 young VWI fellow volunteers, Marlene and Miguel. However, I have great admiration for one particular woman, whose name is Nita Thakore. Nita enjoyed a very successful career as an artist, but has given up the "good life" to set up the Princess Diya Kumari Foundation Society. She is presently working 7 days a week to help establish this project.
The main objective is to persuade under-privileged women that they can make useful financial contribution to their families by getting a job. Business training, health and safety, confidence-building are some of the main themes of the programme, and Nita's boundless energy and enthusiasm is amazing to behold.
Whilst I was there Nita introduced me to many of the women and showed me some of the products they make and sell to help raise the necessary finances.
These included typical colourful Rajisthani bracelets, scarves and other accessories.She receives vital financial help from the Rajisthani Royal Family and I will follow her progress with great interest. I was introduced to her by Pooja, one of the daughters at my guest house. She helps Nita with administration, and she is also benefitting from being involved with the program.
Has your worldwide view changed as a result of your trip?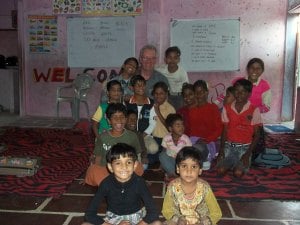 Eric: My worldwide views remain as they were before my visit to Jaipur. The world is made up of many different cultures, beliefs, religions and attitudes. Who is to judge as to who is "right" and who is "wrong". On the face of it,India seems to have a culture of contradictions.
How can a country with aspirations of becoming one of the world's "Superpowers" justify the poverty and pollution which exists there? How can they spend billions on space and nuclear programmes when so many people are living in squalor?
I don't have any answers except that their culture and religious beliefs have evolved over hundreds of years and embrace the caste system, arranged marriages and many other aspects of their lives that we in the West find "alien".
There are countless projects such as the one I was involved in which are designed to bring education to the poor, not just in India but to many parts of the developing world. Whilst the spread of education is essential, I for one love the diversity that exists in the world. Why otherwise would we be so fascinated by travel?