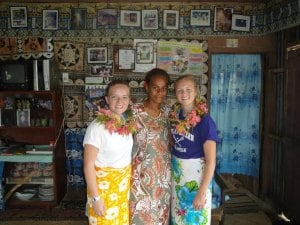 Why did you decide to join the Global Works Fiji Islands Surfing and Service adventure?
Madison: I decided on the Global Works Fiji trip after researching many different programs and trips. I was looking for a mix of service and adventure for about two weeks. Once I found the Global Works website and brochure, I spent a lot of time looking at their different programs.
My sister and I went on the trip together and we both loved the service that we would be doing, working in the ocean and in a village, and the fact that we would be learning to surf.
I contacted five people who had been on the trip in year's past and they all had nothing negative to say, all loving everything about it. That's when we decided to go with Fiji.
What do you most value about your experience?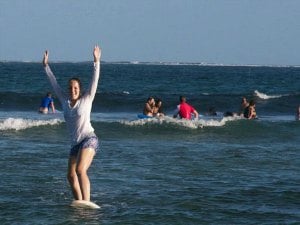 Madison: What I most value about my experience is how much I learned about myself. By going on this trip with 9 complete strangers, I forced myself to make friends and we actually still keep in touch. I stayed in a house with people that I had only just met, but I absolutely loved them and their whole family.
By the time I had to leave, I was so sad, having grown attached to everyone in the village. I also completely caught the travel bug and now I want to continue to experience new cultures and people. It changed me and my perception of the world.
Tell me about one person you met.
Madison: I think one of the people who has stuck with me the longest is a girl named Zorro. We met her in our second hotel. As a teenager herself, it was super cool to get to interact with someone our age.
She was super funny, coming up with nicknames for all of us. She thought my name was hilarious, as who would name their kid "Medicine"? She got to teach us how to participate in the Kava Ceremony, a traditional welcoming ceremony into a village.
She watched us take our first drink of kava and laughed at all of our expressions afterward. Her happy go lucky attitude, and awesome dance moves, kept all of us laughing and was an awesome example of all of the people that we met in Fiji and their amazing personalities.
Ten years from now, what's the one thing you'll remember most from the trip?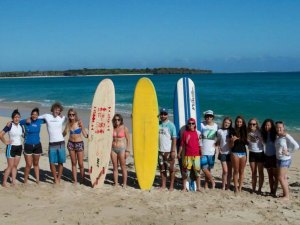 Madison: I think what I will remember from the trip is being on the ocean everyday and what we were able to learn from it. From the minute we arrived in Fiji we all went straight into the water and we spent every moment we could in it.
We were able to help a conservation effort for dolphins, listening to their sounds and taking pictures of their fins. We snorkeled every day. We played games and went kayaking.
I totally fell in love with the ocean while I was here. Surfing was actually an amazing experience, feeling the power of the wave propelling you forward. We all got to be very good surfers with the help of Fiji Surf Company and we got to go out to world famous surf spots including Cloudbreak. I think about the ocean every day since I have been back.
Has your worldview changed as a result of your trip?
Madison: Coming back from this trip, I am much more able to appreciate other cultures and people. I am more appreciative of how other people live.
Every single person in Fiji was kind. They would say Hi every time you walked by. The kids were so amazing, wanting to follow us wherever we went.
I loved being able to get to know these people, playing games with them and participating in their cultural ceremonies. They welcomed us into their homes, gave us their beds, fed us every meal, brought us into their church, and gave us clothes to wear. Nowhere else have I felt so taken care of. Coming home, I have a goal of bringing some of that culture back home.