Why did you decide to volunteer with Frontier in Madagascar?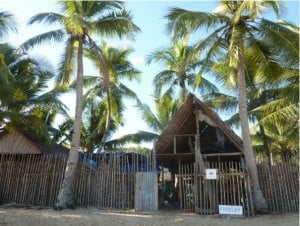 Alex: After studying Marine Geography at Cardiff University I felt like I wanted to see the world after 3 years in sunny Wales. After a bit of hunting, I found Frontier a well-recommended conservation N.G.O.
And as most people will answer when they are asked "why Madagascar?" my responses involves sharing that the movie Madagascar definitely influenced my decision of destination.
Frontier runs an internship program which is designed for those that have some experience within the field of research and that wish to learn more about how an N.G.O is run. This is an amazing opportunity as you learn so much but also are given more responsibility and are able to help the other volunteers.
Frontier is very different from all of the other conservation companies that I researched before my trip. They work alongside universities, local agencies and most importantly the local communities to not only provide a good experience for volunteers but also produce valuable information and research that really does some good.
I enjoyed my time so much with Frontier I am now on their ambassador program and have plans to visit their Costa Rica and Madagascar projects in 2014.
What was the best moment of trip?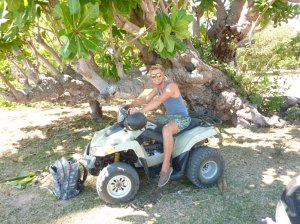 Alex: Lots of people ask you what was your favorite part of your trip and it is so hard to decide, especially as I spent 2 months there with people coming and going and doing a lot of different things in my spare time as well.
The moments of everyday life at camp that stand out have to be the amazing diving as there is so much to see. I have been diving in many places around the world but Madagascar is unique for me. There are varied dive sites and the MPA of Tanikely is just a short boat ride away where you will have some amazing diving experiences.
Another memorable moment from my trip would be the day quad biking around Nosy Be, a few friends and I hired some ATVs and took ourselves on a tour of the island. Once you venture outside of Hell Ville you see the real Madagascar, small villages with empty land running between them, pristine white sand beaches where no one else can be seen for miles.
We spent the whole day driving around the coast, to the top of Mt Passot (highest point on Nosy Be) and finally watched the sun set over the Indian Ocean, beer in hand and playing with the local children. All in all it was an amazing day spend with fantastic people in the most perfect setting imaginable.
Tell us about one person you met.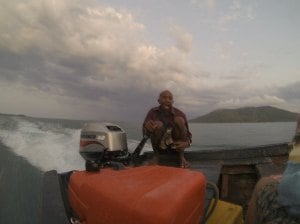 Alex: During my trip I met so many amazing people - from the other volunteers and staff on camp to the locals in
the neighboring village. The staff are excellent at what they do, they know that a lot of volunteers have not done anything like this before so are extremely happy to help with any queries but they are also great fun to spend your free time with.
The locals are very welcoming which I was surprised about as in other experiences relationships can sometimes be tough between conservationists and local villagers/fishermen. However in Madagascar they are most welcoming and even some of the staff are locals.
The village makes the most of having the project close by; they operate a small shop where you can buy snacks etc. and once a week Party Night approaches where you eat, drink and dance with all the locals.
The one person that stood out during my time on camp is Victor. He is the village president's brother and works as the dive boat skipper for Frontier. As one of my internship roles I was also a skipper so Victor and I spent a lot of time maintaining the engines and setting up the boats.
He taught me a lot of Malagasy ways to fix things and I taught him about modern engines and SCUBA equipment. Every week we would party at Victors house, his wife Voulaz also made the most amazing Zebu sandwiches which there was always a rush for in the mornings but Victor would hide one away for me.
If you could go back and do something differently, what would it be?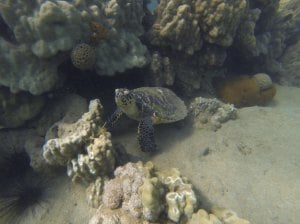 Alex: I am going back!! But there is nothing I would do differently apart from spending more time there. I was lucky
that the group of volunteers I joined camp with were very friendly and we all found it easy to mix with the existing volunteers and staff.
I think it is essential that when you go on an adventure you open yourself up and just make the most of everything whilst you are there.
With volunteering you get out what you put in. If you want to sit around camp and not do much then you won't get the full experience. However if you push yourself and do everything you possibly can then you will have the time of your life!
Do you feel like you made a significant impact on the local community? Why or why not?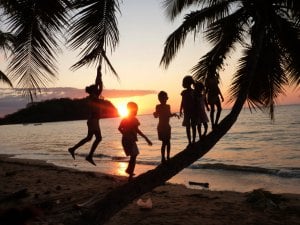 Alex: Frontier Madagascar has great links with the local community as the camp is based right on the edge of a small village (Ambalahonko). And there are also smaller settlements running either side along the coast.
Being so close to a local village can sometimes be a draw back as there are often conflicts between conservation and local ways of life. However over the years the two groups have managed to work together and now it is clear that the local communities are taking an interest in the work that Frontier does.
One example of this is Wilfred, the president's son who is now helping the Madagascar Forest project using his local knowledge of the research sites to help locate target species and navigate through the forest. All those within the village are very keen to learn about the species we find there or the research that is being done. Often they will come and ask to see photos from dives or forest walks.
A moment that will stay with me is when I was sat on the beach with ARO Tom who was teaching me my fish species for identification surveys. Along came a group of 5 young boys who wanted to know what we were doing. After playing catch with them for a bit they all sat down and started looking through the flash cards we had made of the marine life in the area. Pointing to each one, we told them the scientific and common names of the species, then they would tell us the Malagasy name.
I was so surprised to see that boys as young as 6 knew a lot of the true common names of the species and could identify them. This showed me that if they can learn this, then there is no reason why we can't teach them about conservation and how we can work together to ensure the marine life in the area stays for years to come.