Why did you decide to volunteer abroad with Projects Abroad Peru?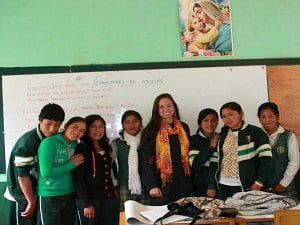 Cassie: I first heard about Projects Abroad through my university. Because I am a Poverty Studies Minor, I was looking to complete the requirement of an 8-10 week internship working directly with people in poverty.
Projects Abroad was one of the organizations recommended to me by my internship coordinator, and after doing extensive research on several organizations I decided that it seemed like the best choice for me based on services and support offered.
I chose to go to Peru because I was looking to complete my internship in an international place that would enable me to improve my Spanish skills while at the same time exposing me to a culture-rich environment in Latin America, the place that I love.
I also chose to teach English because I thought this would be such a challenging but also rewarding decision. It is an understatement to say that I was not let down.
Peru was without a doubt one of the best experiences of my life, and I have Projects Abroad to thank for organizing it and being with me every step of the way (especially through all my long question-packed emails prior to departure) before I even boarded the plane for Peru.
Ten years from now, what's the one thing you think you'll remember from the trip?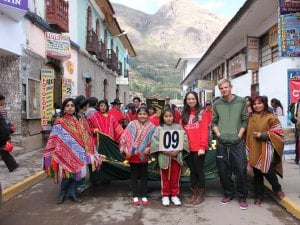 Cassie: The thing that was so incredible about my experience in Peru was the huge amount of cultural experiences I was exposed to. I got to visit some of the most beautiful ruins in the world, including Machu Picchu and by spending time with Peruvian families.
I got to try typical Peruvian dishes such as ceviche and cuy, celebrate a birthday Peruvian style,and drink Pisco Sours while dancing and singing along to traditional songs. These are some of the times I am most thankful for.
I still think ten years from now the one thing I will always remember was my involvement in a typical Peruvian festival that took place in my own town of Calca. To this day I am not exactly sure what the festival was celebrating, but it involved a huge parade of all the schools and their students throughout the town during the day and an all-night long party afterwards with live music and dancing.
I was so honored when my school principal asked me to march with my school during the parades and hold the school's flag along with the rest of the other teachers. It was in this moment that I no longer felt like a "gringa" but rather an accepted and appreciated member of the town.
What was the hardest or most challenging part of your experience? Most rewarding?
Cassie: The hardest, most challenging part of my experience but at the same time most rewarding was adopting the role of a true teacher. During my time in Peru I was placed at Colegio Agropecuario to teach English to students ages 11 to 18.
For 8 weeks I was not just a pretend, stand-in teacher. I was a full-fledged homework writing, activity creating, lesson planning teacher, and I have never worked so hard in my life, both physically and emotionally.
Some days were easier than others, and some classes were more cooperative than others, but most days I walked out of the gates of my school knowing that at least one child had learned something from me that day.
I did my best to turn each lesson into a game and be the "cool" teacher that everyone wanted to have. Bingo was my first success, and it turned my classes from mildly attentive to alert and competitive. Add in a prize of M&Ms, or chin chins as they are called in Peru, and I had myself some of the most fun, exciting, and rewarding classes during my time at Agro.
I found that the addition of a ball also caught the attention of my students, especially my first graders. One of my best days at school was teaching adjectives to my cute little first graders because they were so willing to participate just at the chance of catching and throwing the ball.
Anyone who walked by the classroom that day probably thought I wasn't doing my job right because of how much noise and laughter was coming out of the classroom. Therefore, although being a teacher was such a challenging role, it was also the most rewarding because I got to laugh with my kids while teaching them and I was able to forge friendships with them that will remain in my thoughts forever.
Tell me about one person you met.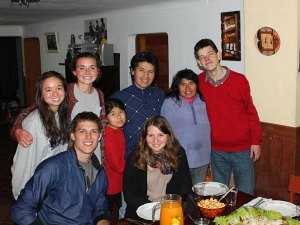 Cassie: The one other part of my Peruvian experience that I am so incredibly thankful for is the amazing group of volunteers that I came to know and love. These were the people that I spent all my free time with, whether that was traveling around Peru to cool places like Lake Titicaca, hanging out in Cusco on the weekends, or just sitting outside on a bench talking.
It amazed me how quickly we all clicked as friends and not just as friends but good, true friends for life. I have never met a more extraordinary and gifted bunch of people and I miss them all every day.
One of the volunteers who I met on my trip who will always remain special to me was a girl from Australia named Freya. I met Freya on my very first weekend and from then on she remained my best friend in Peru.
She is someone who impacted me in more ways than one and taught me valuable lessons on life, service, happiness, and embracing myself, and I know that I will always remain friends with her.
Has your worldview changed as a result of your trip?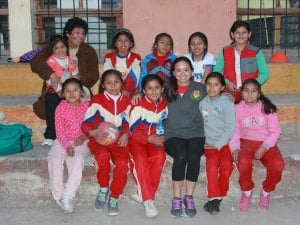 Cassie: I knew that my experience in Peru would change me, but it is an understatement to say that I came home a completely different person. I met so many incredible people with such vivacity for life regardless of what they had or did not have, and it really made me realize that nothing in the world really matters except love, compassion, and happiness.
Sometimes I feel I learned more from my students than they learned from me and upon leaving I was sad that my absence would cause them to forget me. Nevertheless I find myself thinking about my kids almost every day, and their constant flow of Facebook messages asking me when I will come back reinforces the fact that I made an impact on them as well.
Peru challenged me both physically and emotionally, and I came back more alive with a fire for adventure and a vigor for helping people. Because of Peru I have decided I want to join the Peace Corps, potentially after graduation, because for the first time in my life, I experienced the joys of putting depth to purpose and seeing the impact that one person can actually make.