View Other Details

Program Details

Timeframe

Short Term

Spring Break

Summer

Winter

Year Round

Housing

Host Family

Hostel

Pricing

Price Details

Prices vary depending on project and number of weeks

Visit website for more details on costs

What's Included

Accommodation

Activities

Airport Transfers

Meals

Transportation

Wifi

What's Not Included

Airfare

Travel Insurance

Visa
20 travelers are looking at this program
At Projects Abroad, we're passionate about travel with a purpose. Since being founded in 1992, more than 120,000 volunteers have traveled to Peru and 20+ other destinations around the world.
With an extensive coastline, a vast area of Amazon rainforest, and the Andes, Peru gives you the opportunity to visit South America and see much of its character in one country: wildlife, beaches, historical sites, and mountains.
We have exciting, worthwhile projects for you to join - our Archaeology project to learn more about the Incan & Wari civilization, work in the heart of the Amazon in our Rainforest Conservation program, or help improve the lives of local children in a Childcare or Sports project. You can also intern in Medicine & Healthcare fields to boost your resume!
Whichever program you choose, you'll be supported by our dedicated staff and partners who make sure that all our volunteers contribute towards achieving the UN's Sustainable Development Goals.
Program Highlights
Choose a project you are passionate about that fits your interests
Select your own start date and duration
Get 24/7 support from the local staff and head office team
Make a difference where it is needed most
Enjoy Peruvian wildlife, world heritage sites, and rich culture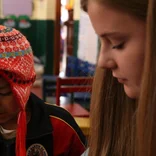 Work with local teachers to support early childhood development at disadvantaged childcare centers.