Why did you decide to take your TEFL course with SEE TEFL in Thailand?
Eli: I decided to take my TEFL course with SEE TEFL because I had heard good things about their company from people who I knew personally and their online reviews were also very good. My cousin had been teaching in Chiang Mai, Thailand for a year and he knew people who had been satisfied with SEE TEFL's course. After doing research on my own online and looking at SEE TEFL's website, I decided that their organization would be a good one to take a TEFL course with. I wanted to take a TEFL course in Thailand because I wanted to see and experience the culture and acclimate myself to Thailand before I started teaching.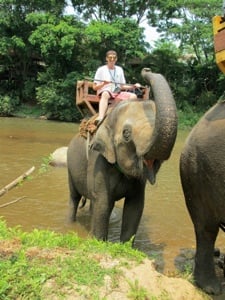 What made this teach abroad experience unique and special?
Eli: Teaching in Thailand is special because in addition to learning how to teach a class I have had to learn about many of the differences between schools in the United States and schools in Thailand. In secondary schools in Thailand, all the kids stay in the same classroom all day where as in the United States students move classrooms throughout the day. In Thailand students have to stand up and greet their teachers at the beginning and the end of class. It is also always a challenge communicating with students while dealing with language and cultural barriers but I have found teaching to be quite a rewarding experience.
How has this experience impacted your future? (Personally, professionally, etc)
Eli: I feel like teaching in Thailand has allowed me to learn many leadership, communication, and planning skills that will be helpful going forward in my career. Teaching as given me the confidence to take charge and be proactive with dealing with things that come up both at work and in life.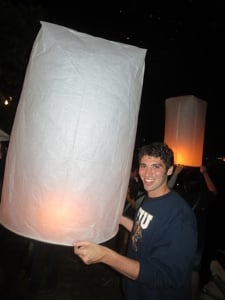 I want to work in sales and marketing in the future and teaching involves presentation skills that are necessary to work in those fields. As a teacher I have learned how to work with many different kids of people. Students vary in age and ability and I have learned how to plan and present information to people in different ways. I have learned that a teacher must find different ways to motivate people because what works for one person will not work for another person.
What is one piece of advice you would offer to someone considering a TEFL course in Thailand?
Eli: As for advice, I would say research the organization that you want to study with. Also be prepared for new experiences because you will constantly be doing new things, whether they are related to being in a different country or working in a school. Thailand is a great place to teach because the people are very nice, as well as accepting of foreigners, and many Thai people want to speak English. Thailand is a very relaxed atmosphere and Thai people are very helpful towards all people.