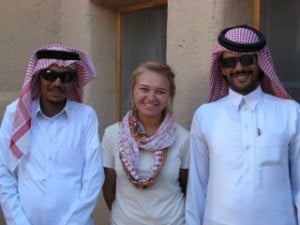 Why did you decide to teach English abroad with GeoVisions in Jordan?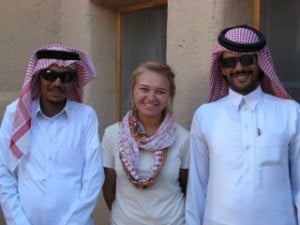 Holly: I decided to go abroad with Geovisions because I wanted to do something way out of my comfort zone. I had never been to Jordan before, let alone teach English in a rural Bedouin community.
I have a really strong desire to explore, and I often get restless if I stay in one place for too long. So this was a once in a lifetime opportunity to experience something so unique that I would remember forever.
I also did not want to just travel, I wanted to give back in some way. Teaching English was a way for me to give a part of my culture, my language, and my personality back to this community that had taught me so much of their culture and world.
Describe your day to day activities as an English teacher.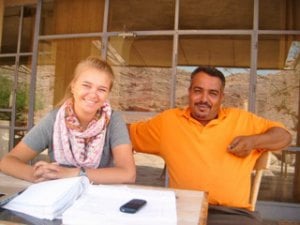 Holly: A normal day for me while in Feynan is hard to describe because everyday was different in some way.
But generally, my schedule was waking up around 7:30, eating breakfast with either the guests at the Lodge or with the Bedouin if there were no guests.
Then I would walk about 20 minutes to the nearest Bedouin tent to teach three girls English in their home for an hour. After that I would walk to another tent to teach another girl English for an hour.
By this time it was 11 am, and I had to return to the Lodge to teach a group of 6-8 boys English in the classroom the Lodge had. After that class, I would eat lunch and rest in the midday heat.
At 3 pm, I would have a 2 hour class for the employees of the Lodge, after which they would return to their homes in the nearby village.
After class, I would be able to either eat dinner with a Bedouin family or at the Lodge with the guests.
Then I would often go on the Sunset hike with the tourists. After dark, I would sit on the roof with the Bedouins and guests and watch the stars, and finish the day off with tea and shisha out back with the employees.
I of course went on many adventures, ranging from hikes nearby, goat herding with a few Bedouin, trips to Wadi Rum or other nature reserves. I had the chance to visit Amman, as well as Aqaba.
I never felt trapped, but I always felt off the beaten path, which is exactly what I wanted.
Ten years from now, what's the one thing you think you'll remember from the trip?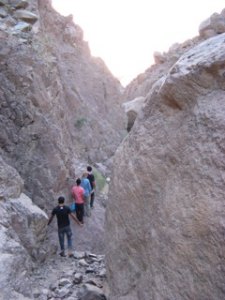 Holly: I will never forget my experience in Feynan for as long as I live. Every aspect was amazing and challenging.
But my favorite part would be when I went goat herding up in the mountains with a group of Bedouin. Goat herding is a very traditional form of income for the Bedouin community, but not only that, it is a great enjoyment and a type of relaxation for them.
I went on multiple herding trips, where we would hike high into the mountains surrounding the Lodge. We would take long breaks under the shade of a few rock formations and drink tea that they had prepared from an old kettle and some sticks found on the ground.
It was so authentic, and I got to see into a world very few people get to see. When I would go herding, I never felt so in touch with nature and myself. It was the most perfect way to see Jordan's natural beauty.
Tell me about one person you met.
Holly: One person I met during my experience was a woman who worked in Amman, and was the coordinator for the English program at the ecolodge. She helped me become acclimated to Feynan culture, and was a great support for my time there.
She influenced me in many ways, but her ambition and passion for the preservation of the Bedouin community really struck me. Seeing her work with the people at Feynan and appreciate the culture was inspirational.
When asked the age old question of "what do you want to be when you grow up", I always picture her and hope that I can accomplish at least half of what she has.
How has this experience impacted your future?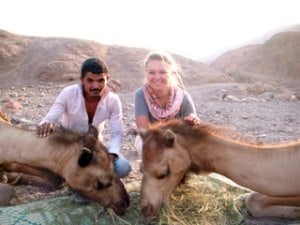 Holly: In all honesty, my experience teaching English at the ecolodge put me on the path that I am now. I was reminded of how much I love nature, and how I want to not only live in it, but also do everything I can to preserve it.
I also learned that though I am not a fabulous English instructor, I really love working with local communities, especially in the Middle East.
I am now studying International Development and Sustainability at my university, and plan to work in the field of ecotourism. I owe much of this to my experience at Feynan.