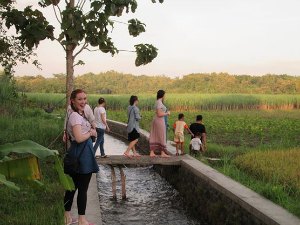 Why did you decide to intern abroad with Ecoteer in Indonesia?
Sian: After participating in the volunteer program offered by Ecoteer at WRC: Wildlife Rescue Centre in Jogja, I knew it was something I would like to be involved with more.
I love the combination of helping with native wildlife conservation and helping the locals improve their future prospects by offering weekly English lessons to the staff here at the centre as well as an after-school club for the kids in the local village.
After living in the UK all my life, after I had finished my studies, I decided it was a good time to try something new and hopefully improve the lives for others, however big or small an impact I may have.
Describe your day to day activities in the Ecoteer Conservation and Community internship program.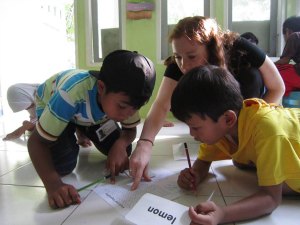 Sian: One of most interesting things about this program is that each day is different.
On an average week I will support any volunteers we may have at the project by arranging outings, helping them feel comfortable in their daily duties or simply just keeping them company. We have volunteers from all corners of the world so it can be very interesting interacting with people from all different backgrounds.
Kids Club is also a weekly task that I prepare for. Each month we have a different topic that relates to a conservation subject. This year we've covered "Save the Bugs", "Growing Food", and "The Weather". It is important to keep the lessons simple and fun as it is an entirely optional extracurricular activity.
We often have as many as 30 kids attend each week and the kids are of all different ages and English speaking abilities. They are great fun to work with once they get to know you.
The staff English classes are also good fun as we have a competition every week of Team Staff vs Team Volunteer. The staff will learn English words while the volunteers learn the Indonesian language and we play games to test each other's knowledge.
This is good as it encourages the staff to interact with the volunteers in an informal manner and also boosts confidence when interacting with volunteers on a daily basis.
Has your worldview changed at all as a result of your trip?
Sian: Being here has opened my eyes to a whole new world. The way people live over here is entirely different to how people live in the UK or in other highly developed countries.
But everyone here seems to be grateful for everything they have, whereas in countries in the UK, the more people have, the more they seem to complain about what they don't have.
The attitude of the people of this area should be made an example of by other, better off, countries as it is truly inspiring to see people so happy everyday even after hard labouring all day in the blazing sunshine.
And they think so highly of travelers and want nothing more but for them to enjoy Indonesia and show them what it has to offer. They are very proud of their country, and they have every right to be. Truly inspiring.
Tell me about one person you met.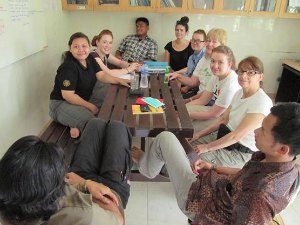 Sian: One of the people I work with closely here at the centre is the Marketing & Communications Manager, Rosa. She is one the hardest working people I ever met and it's all for a very good cause.
As the centre here accepts no government funding we are continually seeking ways of generating new income. At the moment Rosa has been working very hard on a new Adoption and Donation scheme.
All of the animals we have here have come from being illegally trafficked as pets by humans and many of them are not native to Java. Some of them have come from such poor conditions they will unfortunately, will never be suitable for a rehabilitation and release scheme so they will stay with us, at the centre, for the rest of their lives.
Rosa has been researching and collating reports for each of the animals in order to, hopefully, gain some public interest in sponsoring or donating for the animals in order for them to have a secure and comfortable life here at the centre. She is a star fallen from heaven.
What aspect of the program would you most recommend to future participants?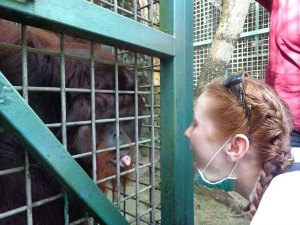 Sian: My time here has been packed full of amazing events. Everyday is a new experience with things I would never had witnessed had I stayed in the UK.
From little things such as experiencing (minor) earthquakes, witnessing volcanoes erupt to having lunch with the second in line to the Dalai Lama. To amazing things such as watching the children gain confidence in using their English to seeing animals rehabilitated and ready to return to their natural habitats.
Everyday is a blessing and I am grateful for every minute, even if things get a little stressful sometimes I can always think that my purpose here is making such a big difference to so many people and animals, and that's enough to see the day through with a smile.