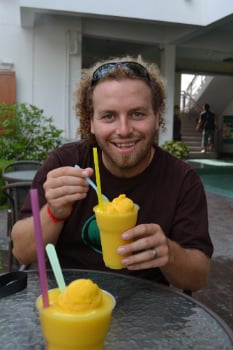 What position do you hold at Ecoteer? What has been your career path so far?
I am the co-founder and lead researcher at Blue Temple Conservation C.I.C. We work in collaboration with Ecoteer in Perhentian and set up the Marine Research station with Dan and Seh Ling in 2014.
I still struggle to think of my work as a 'career', but after floating around in various jobs of no interest, I ended up travelling and spending time volunteering around Asia, where I met Dan and Seh Ling and the Marine Research station was born. I have a degree in Environmental Conservation and am currently undertaking a PhD with Plymouth University, UK.
Did YOU volunteer abroad? If so, where and what inspired you to go?
I have spent some time volunteers. In 2014, I visited Thailand, Malaysia, Cambodia and Vietnam with my wife. During our trip we volunteered at various projects, a farm in Thailand, the Elephant Nature Park in Chiang Mai, the Perhentian Community project with Ecoteer (where we met Dan and Seh Ling) and a Marine conservation project in Cambodia.
When we decided to quit our jobs and go travelling, we weren't sure what we wanted, but we knew we weren't really keen on following the backpacker trail that has been well worn down. We wanted to experience a different type of Asia, and knew from friends that volunteering was a good option. We wanted to experience the culture in a way that tourists don't see it, spending time meeting locals and sleeping in villages was the best and most rewarding aspect, especially being thrown into the market to buy food for dinner with no idea of the language or costs. Fantastic experience.
What does the future hold for Ecoteer - any exciting new programs to share?
As the leader of the Marine Research Station, I am very excited for 2015 and the upcoming years. 2014 was our first year so was very much a case of getting to grips with running the project and starting to build some ground level data and relationships in the village. 2015 opens up a whole new chance to step forwards and really begin getting to grips with some of the aspects damaging the corals.
We are hoping to train our current dive team of locals up even further as well as expand the team. Whilst our research will continue with reef monitoring (via Reef Check methods) but will expand to include snorkel and dive impacts on the reef, shark population surveys and hopefully a coral nursery just off the village beach.
Very excited. Also in discussions with Universities to set up fieldtrips for students and encourage independent researchers on board.
What about the future of the industry? How do you think volunteer abroad will change over the next 10 years?
I think volunteering is becoming a much more popular choice than it used to be. It is easy to see with quick online searches, that the number of opportunities is growing rapidly. Whether this is a good thing or not I don't know. Hopefully the positives and benefits that volunteering projects provide remain the strong foundation for which they have been built up, contributing to the local community and environment is vital and without it the project will struggle.
I have already seen a slight shift in some companies towards a much more 'monetary' focused work, looking at profits rather than making a difference. I hope that doesn't put people off genuine projects like ours and at Ecoteer, where the community and environment really do come first.
Which volunteer abroad destination is most underrated? Conversely, which is most overrated?
Really hard to answer this, I have visited projects before they became popular or successful, similarly I have visited huge projects (Elephant Nature Park) which I would have expected to be off topic on their focus.
However, I think it goes back to my previous point. If the people running the project have their priorities set on the project aims, not selfish success or money then a project can be perfectly imperfect. All projects that focus on their work won't be perfect, but if a volunteer has the expectations of working hard, being involved and often covered in paint or dirt. Then it will be fantastic....I think.