What prompted you to want to study abroad in France and then choose Abbey Road?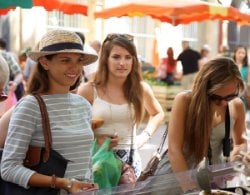 Sarah: I take French in school and really like it. I also went to France on a family vacation two years ago and I wanted to go back with a group of students my age.
I did look at a couple of other programs, but Abbey Road seemed the most legitimate and had the most to offer that I was interested in.
Did your French improve during the course of the program? Did you enjoy working with your Abbey Road instructors? 

Sarah: Yes, definitely. I am in my fourth year of French at school and I would consider myself pretty proficient. The French program isn't as strong as the Spanish program at my school, but I can get by all the same.
Back home now my listening skills have especially improved. I can understand my French teacher and I know what she is saying and not many kids do. Also, my ability to speak French improved and my grammar got a lot better because of the activities we did in class. I am going to take the SAT II and listening for French; this program I think is really going to help.
I thought the Abbey Road Instructors all worked really well together. Our coordinator who lived in Marseille, really knew what to do and where to go.
The other teachers spoke French really well. All the staff was very helpful and they really helped us improve our French and get around the city. They were all just really nice! 


Living in the center of the city is one of the best parts of studying abroad- were you able to interact with the people of Aix? What were they like? 

Sarah: The people [of Aix] definitely knew we weren't French, but they really were nice and would speak to us in French. At the bakery my friends and I went to every morning the lady who owned it got to know us and everyday she would ask us what we were doing and where we were going that day and we would respond to her in French.
It was really good practice. I had an overall really good experience with them. 

"Academic Summer Program" can mean a lot of different things. In your opinion, what does it mean to say Abbey Road has a structured academic or learning aspect to their programs?
Sarah: 
Unlike the other summer programs, you do learn, but not in a school fashion. You are learning and you are having fun and sometimes you don't even realize you are learning until you are talking about something and realize that you actually know a lot about it. You get so much out of the program, but you don't spend the whole time in a classroom. 


What advice would you give to a future Abbey Road Student? 

Sarah: I would say be open-minded and have fun. Really take advantage of the program and the city while you are there. Definitely use all the time you have to be in France and take advantage of the fact that you are there!