What led you to join The Leap's program in Kenya?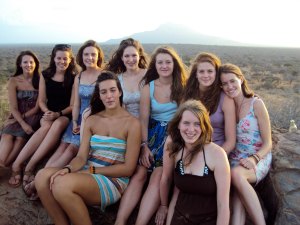 Athlyn: I wanted a program that combined hard work with a bit of fun in between, as well as one where I could work closely with local communities, rather than autonomously 'change' and 'develop' an area, disconnected from the people who live there.
The Leap had some great reviews, and the staff were all very knowledgable (I recall one of the founders telling me that he had previously lived in Kenya, so some of the in-country leaders were very well connected, which gave my parents a great sense of security!
Has your worldview changed as a result of your experience with The Leap?
Athlyn: At the time, yes, but after completing a social sciences and politics degree at university, my views have been radically altered yet again... Many a course on colonialism...
Tell us about one person you met.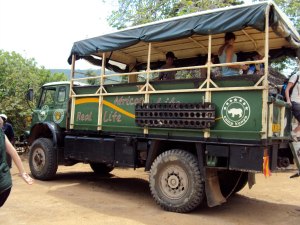 Athlyn: I can't really pick just one, and it wouldn't be fair to pick anyone from the team (because they were all so wonderful). So I'm going to have to go for the big van driver, Edward!
Edward was with us from day 1, for the entire 10 weeks of the program, and he was such a character. He didn't speak much English, and our limited Swahili didn't get us very far, but he was always there on the sidelines, providing us with the much needed shade from his enormous, painted safari truck.
I think one of my fondest memories of Edward is actually the most frightening of the trip (NOT the Leap's fault, but just a trick of nature!). We were in the big truck watching some elephants bathe in a muddy pond (as you do...), and all of a sudden we realized that we happened to have positioned ourselves in between a big daddy elephant and his babies!
The elephant started to grunt and scrape at the dirt beneath his feet, and Edward got us out of the potentially horrendous situation by doing what we thought was mental at the time - he drove TOWARDS the beast! Anyway, long story short, we're all here to tell the tale!
What's something interesting about Kenya that the average person doesn't know?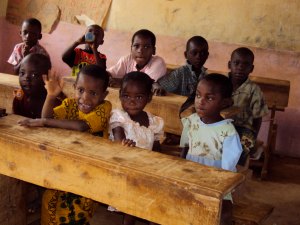 Athlyn: Aside from being wowed on a daily basis by the nature and landscape of the beautiful country, I was really impacted by the generosity and kindness of all of the people I met during my time in Kenya.
My favorite time of the day was after finishing work, when the sun dipped behind the horizon and walked around the village chatting to local mothers while they cooked chapati for their families, played football against a local team, or were invited in for a cup of tea by the local school teacher.
What aspects of the program would you most recommend to future participants?
Athlyn: The whole experience was wonderful. Each aspect was so different, and each had its own special and inspiring moments.