You first spent a summer volunteering with The Leap in Cambodia before joining their team. Describe your day to day activities as a volunteer.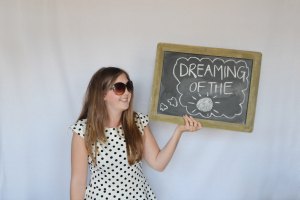 Michaela: The day to day activities in Cambodia are pretty varied, from teaching English classes at a Buddhist pagoda, to building classrooms at an orphanage, working with rescued elephants and building clean water wells for families who don't have access to clean drinking water.
It's a really community-based project, so a lot of the work is with the local people and local kids, which is one thing I really loved about it.
What made this volunteer abroad experience unique and special?
Michaela: I think the Cambodia project is really special because you are able to really immerse yourself in the local culture and although there's a language barrier with some of the locals, you're still able to forge friendships that you'll never forget.
You work with local people on a daily basis from the ages of 1 right up to probably 60 and everyone has a unique story to tell. The whole team are looked after by a wonderful Cambodian family. And if you are a foodie like me, I think you'll find that part of the trip pretty special too.
What was the most interesting cultural difference you encountered?
Michaela: Wow, I could write for hours about this one. Cambodia is a really interesting place and culturally its a world away from England, which is another reason I love it, its exciting. Firstly I really love the way that people in Cambodia greet each other and say thank you.
It's always done with your hands pressed together in a prayer position and with a bowed head. Your hands are then lifted to a height depending on the amount of respect due to the person. For example, if it's a child your hands are just in front of you. But if it's an elder, your hands will be more towards your face.
It's important to remove your shoes before you enter any Cambodian home as a mark of respect. And if you meet a Buddhist monk you're not allowed to touch them. You should also try and point your feet away from them when sitting down to be polite. A lot of stuff to pick up but you get in to the swing of it.
Was it difficult to navigate around language barriers?
Michaela: In Cambodia they speak Khmer (pronounced Khmai). It's a beautiful language which is written in symbols rather than letters. I found that some adults and teenagers spoke enough English to be able to have a great conversation. But its surprising how much you can get across with just hand actions and facial expressions.
Actually when I was studying for my TEFL (Teaching English as a Foreign Language Certificate) they said that its sometimes easier to teach English in a classroom if you allow no local language to be spoken. But it's really fun to learn some Khmer and have a practice……if you manage to master it, tell me how :)
Where would you most like to travel to next?
Michaela: I can sincerely say, hand on heart, that I am now in LOVE with Asia. Since going to Cambodia to visit The Leap projects, I've also travelled to Thailand which I loved. Still on my list in that part of the world are Vietnam, Indonesia bali and the Gilli islands, Singapore, Sri Lanka and India…can you tell I'm a travel addict? :)