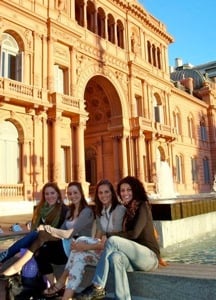 In 2009 I completed my undergraduate degree in Spanish, Economics, and Political Science, and was suddenly faced with a new question... now what?! I knew I wanted to find work in my chosen career field, but there were still so many things I wanted to experience before settling down. I wanted to learn more Spanish, become familiar with different cultures, meet new people, and see new places. What better way to achieve all this than travel?
With these thoughts in mind I decided to take a year off, work a little and travel. I took a job with a translation company where I was able to save some money. I decided South America was where I wanted to be situated, so I began to research online for interesting programs. Even though I wasn't quite ready to start my professional career, I still wanted to gain work experience and decided volunteering in international relations was ultimately what I wanted to do. I typed into Google 'internships South America' and the very first name to appear was Road2Argentina. No matter what I typed into Google (volunteering South America.. learn Spanish in South America.. teaching English in South America..), Road2Argentina was always the first organization to appear. After a thorough investigation of their website, I discovered this was probably because they were by far the best ranked, most professional, and offered exactly what people are looking for; honesty, safety, variety, and a good time.
Communicating with the staff from Road2Argentina was extremely easy, even all the way from New Zealand. Kay and Katie always responded quickly and with answers to all of my queries. They even offer scholarships to help with funding and I was lucky enough to win one! After the Argentinean Embassy in New Zealand confirmed they were one of the best programs in South America, I booked my tickets and arranged a leave of absence from work; I was off to Argentina!
After spending a few months traveling through Brazil, Chile, and Mexico, I finally arrived in Buenos Aires ready to start my internship. Road2Argentina picked me up from the airport and transferred me to the residence, which was awesome because the sheer size of Buenos Aires can be very intimidating. David, the house coordinator, greeted me upon arrival and I was introduced to my roommates. The Road House is fantastic because you meet so many people, there's just no time for homesickness!
From there, it was straight into my internship for an international cooperation company (all organized by Road2Argentina). I worked with some amazing people, including other international students, civil society organizations, embassy staff members, and governmental representatives. My work basically involved researching, writing and presenting information about the state of Argentina's NGO society and how relations could be improved between Argentina and other governments. At first it was frustrating not being able to communicate my ideas the way I wanted to in Spanish due to my limited vocabulary. After two months of practice and learning the technical wording required for the job, however, I definitely noticed improvement.
The entire Road2Argentina staff were fantastic. They were always organizing group activities around the city to get involved in. We would have picnics in famous parks, Tango dance lessons, go to music concerts, and have Mate and Medialuna meetings (traditional Argentine drink and REAL croissants). The only issue for me was the amount of English being spoken at home; almost everyone was a native English speaker. I later decided o move into an apartment with Spanish speaking students, and I now wish I had done this sooner. The House is definitely a good option if you are prone to homesickness and becoming fluent in Spanish is not your main priority.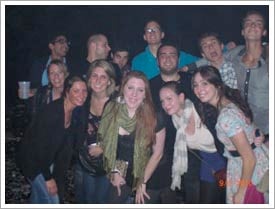 Overall, my time in Argentina was unforgettable. I never once felt insecure and always made sure I stayed aware of my surroundings to stay safe. The culture, a mixture of Italian and Latin American, is truly amazing and the people are great fun. The city of Buenos Aires is just beautiful, with more than 60 areas to explore! Shopping, markets, day trips to small outer cities, visiting museums and Parliamentary buildings, night clubbing.. every weekend I did it all and much more. Word of warning; Argentine food and wine is one of a kind! The best meat you will ever try is waiting for you in Argentina. Combine this with a Tango show and congratulations, you have experienced Buenos Aires at its best!
For more information about Road2Argentina, please visit their website at: www.road2argentina.com.