Why did you decide to volunteer abroad with The Leap in Costa Rica?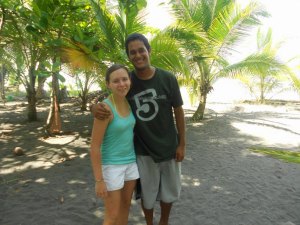 Jessica: The Leap provided me with a program that perfectly matched what I wanted to achieve during my gap semester. After looking extensively through a countless number of similar programs, The Leap became the clear winner.
The Leap stood out as a program that allowed for variation of programing, personal travel, and a fair price.
What was the most interesting cultural difference you encountered?
Jessica: While living at the locations as a group, I was often faced with interesting cultural differences being one of the few Americans amongst a mostly English group. These difference mostly led to new learning experiences, a new vocabulary, and a collection of new games.
However, while staying with my host family I encountered the most interesting cultural difference in how Costa Ricans view family life. To my surprise eating dinner never occurred as a family event. Everyone ate at a different time and in a different location.
Describe your day to day activities as a volunteer.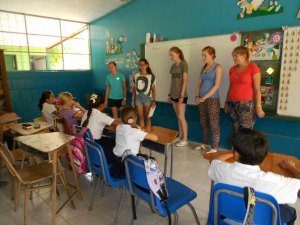 Jessica: The day to day events varied everyday and depending at what section of the trip we were on. The typical day would begin with us getting up, spending some free time before breakfast walking on the beach, reading in a hammock, or writing a journal entry.
After breakfast we would do work around camp. This would either be weeding, cleaning up the beach, or preparing the hatchery for turtle eggs.
During breaks we were often found swimming in the ocean, playing volleyball, or just enjoying everyone's company. After dinner, once nightfall came the best part of the day– turtle patrol.
We would go out in groups of four to six and spend a shift of about fours hours patrolling the beach. Once we found a turtle, we would watch it create a nest then begin our work.
We would have one member catch the eggs as they were laid, one member work on tagging the turtle, one working on paperwork, and one working on marking the nest. Once we collected everything, we would watch the turtle reenter the water, then carry the eggs back to the hatchery.
On other camps our days were filled with teaching English to students from first to eighth grade, working at an animal rehab center, and providing whatever assistance needed to our local community.
What was the hardest or most challenging part of your experience? The most rewarding?
Jessica: The hardest part of my experience was eating basically nothing but rice or beans for over 210 meals in a row. There were many days when the group would just sit around and talk about how much we wanted to eat other foods.
There were even lists made in the back of everyone's journals of the foods that would be eaten when we arrived back home. But eating the rice and beans was an essential part of our trip, and an experience that I would not change. It helped to form many meaningful conversions, memories, and friendships.
The entire trip was rewarding. Each time I got to save a nest full of turtle eggs from poachers, I knew that I was helping the species to live on.
Talking with poachers and ex-poachers about economic alternatives was just as rewarding. Helping students through English lessons and teaching them about American culture was just as rewarding.
How has this experience impacted your future?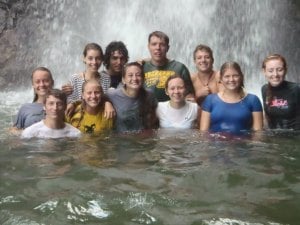 Jessica: This experience has and will continue to impact my life well into the future. The friendships that I have made will last forever.
The life lessons that I learned continue to guide my life. The skills of leadership, teaching, teamwork, communication, and organization that I learned on my trip will help propel me through my years at college and later during my career.