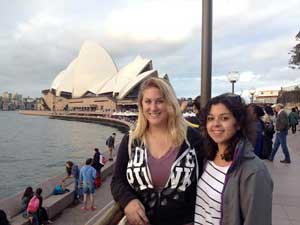 Why did you decide to study abroad with Global Experiences?
Rachel: I chose GE because of the many companies I looked at, GE answered the majority of my questions before they received payment. I wasn't comfortable paying application fees until I knew a little bit more about what I was getting into.
They were patient with me and gave me more than enough time and information to decide. GE also planned group excursions and had amazing reviews from other students. Word of mouth is very convincing.
What made this intern abroad experience unique and special?
Rachel: Without a shadow of a doubt, the people made this experience one of the best of my life. There were 12 people in our program and that was the perfect number. A small enough group that we all go to know each other very well, but large enough that you never felt sick of spending all your time with the same people. I know this was mostly luck, but I wouldn't trade anything for these new friendships.
What did Global Experiences do for you and what did you need to do on your own?
Rachel: GE set us up with interviews, got us into housing, and planned several group actives that were a blast. But we had to figure out our transportation to and from the airport and to and from work. That was a little stressful and an unplanned expense. We were also responsible for our own food.
Do you feel you got a chance to see the city from a local's perspective?
Rachel: Absolutely. At first we were very tourist-y and loved every moment of it. After being in Sydney for a month however, we were all navigating it like pros. We learned about the little hole in the wall places to eat and made them our go-to places. You should be a tourist in your own city.
Do you think your program changed you as a person?
Rachel: I believe that while this program didn't alter my personality, I think that it just emphasized and brought out different parts of me. I have become more adaptable. I now understand the need to travel and see the world.