Give us an intro!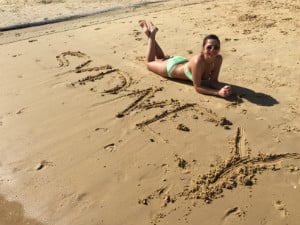 Hi everyone! I'm Brianna, aka Bree. I am 25 years old, also a recent college graduate with a Bachelors of Arts in Arts and Entertainment Management from Dean College in Franklin Massachusetts. I am from the San Francisco Bay Area and I love to dance, make people laugh, travel, eat, and play with my two dogs!
Why did you pick this program?
When I turned 25 I panicked, I had no idea what I wanted to do with my life (still trying to figure that out) So, I quit my retail job, Google searched entertainment internships overseas and Global Experience popped up. I had know idea internships overseas were popular. As I spent many days researching GE I fell more and more in love with the programs they had to offer.
Not only did they have a category for my field of interest but they had many options that I could travel to. I decided to take a risk and apply. I picked Australia because I have always wanted to travel there. I have always heard positive things about Australia. I thought to myself, "This could be an amazing opportunity!" Live in a beautiful country and gain work experience in the industry I want to work in. Who would say no to that!
What is the most important thing you learned abroad?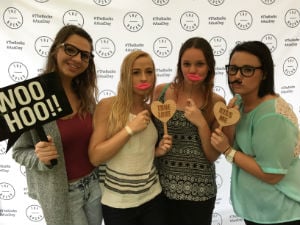 I learned SO much about myself. I had a tough situation while living in Sydney. I had to live and work with my roommate. This came with a lot of challenges as we both spent a lot of time together and had a hard time getting along at first. We did not communicate to one another and we both never left each others side because we did not want to upset the other.
Overall, we both grew to accept the situation and found the happy medium. We found time for ourselves and created our own experiences so we could have something to talk about. This challenge really opened my eyes to working with people as it is not always easy. I was rally happy in the end to have someone to work with.
Our internship was fast and had a lot of little details. Our relationship had to be positive at work because our boss really depended on us. I am proud of myself for not giving up and I glad that we bother were able to have a great experience at work and while living in Sydney.
What's your favorite story to tell about your time abroad?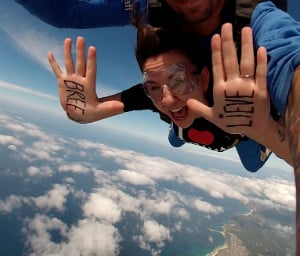 Oh boy, so many stories!
But one of my favorite stories was probably way back on my very fist day in Sydney. We went to go see the Opera in the Domain.
We had all been traveling for 15+ hours and had no idea how to get around. Our location coordination met us at our hostel to take us to the concert. She moves pretty quick and with little sleep we all had no idea how far we had gone or how we even got to the concert. After a while it began to rain so we decided to head back to our hostel. Our location coordinator decided to stay at the show and we would have to find our way back. We didn't think it would be that hard.
We started walking the direction we came to try and find the bus stop. We found a bus stop, sat there and waited. Note, none of us thought to check our phones or look at the map to see if we were going the right direction. We sat there waiting, cold, hungry, wet and tired. We waited.... The bus never came.
An hour went by and we heard our location coordinator yelling our names and waving from a far. She started laughing at us because we were on the wrong side and not at a bus stop.
She said it was the cutest thing, Four girls looking lost more than ever sitting on a bench. It was pretty funny.We made it home. Come to find out we were only about a few blocks from our hostel. In conclusion, we are all pros now at getting around the city and knowing which direction to go!
What made this experience unique and special?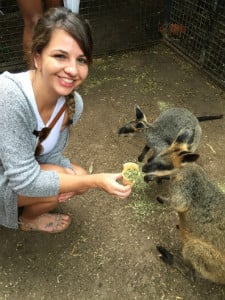 This experience was special because it was a once in a lifetime opportunity. I met amazing people, saw the most beautiful things, and worked in a place that motivated my everyday. I can't put into words the memories I made with the people I met all I can do is smile.
I had the best time living, traveling and working in Sydney. I have thousands of photos, hundreds of inside jokes, and many long nights of just talking and getting to know the people I lived with. I am so happy I had this experience and truly so grateful for the support and friendships I made in such a short time.
What is one piece of advice you'd give to someone going on your program?
Stay busy! No need to stay in your room, thats only for sleeping. The time will go fast so see everything, meet people, travel, try knew foods. Get out there everyday!
Also, go with an open mind. This will block all expectations or 'what ifs' in your mind. I promise if you have a positive attitude, and an open mind you WILL have an amazing experience. All the little stuff won't matter 12 weeks later. Just have fun, take everything in, learn as much as you can and give it your very best! After all it's an internship to LEARN, no stress! :)
What made this trip meaningful to you, or how did this trip change your perceptions, future path?
My internship we amazing! My boss was so motivating and had a lot for me to do. I learned so much about working in a fast paced environment, how to present myself when speaking face to face or in an email. I learned to trust myself and not second guess my ideas or thoughts. I believe in myself a lot more and am even more excited to find a job.
When I turned 25 I was scared, I did not have any sense of direction with my life and I became worried. But when I took this risk and came to Australia I knew I had to make the best of it. I had to give it my all. I did, everyday.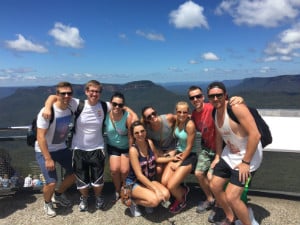 I made mistakes, I wanted to give up a few times but I never did. I kept trying, learning, asking questions and trusting that this experience will help me grow. It did and I am much happier with myself, and even more confident. I knew this would be great experience and I am so grateful for my internship, the people I met along the way and the support I had during the journey.
I decided to stay a month longer in Sydney after my program ended to continue learning and working at my internship. It was a hard decision since everyone I met was leaving but I did it for myself and I am so proud that I did.
Not sure what to see? What places to eat at? Here are a few places that I found when living in Sydney!
The Soda Factory - $1 Hot dogs on Tuesday nights - (get there early)!
Mary's Burgers in Newtown - its hidden, so keep your eyes open!
Port Stephens - This could be a weekend trip or one long day trip. I road a camel along the beach, so much fun!
Mrs Macquarie's point - the most amazing view of Sydney ever!
No Name Restaurant - on 2 Chapel Street, Darlinghurst NSW it is a delicious hidden Italian restaurant.