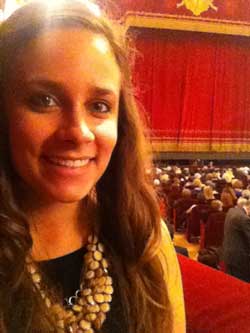 How has this experience impacted your future?
Hannah: This experience has changed the way I look at the world. I have such a stronger appreciation for different cultures as well as languages. I am more passionate about preserving and respecting other cultures.
What is one piece of advice you'd give future IES Abroad students?
Hannah: I really challenge students to go out of their comfort zone. It bothered me when students would complain about not having Chipotle, Hulu, Peanut Butter or their own car.
Your abroad experience is just a short period of your life and you have years to enjoy all the other things. I focused on embracing the differences. Sometimes that meant I got a pizza covered in anchovies but I was able to avoid it later on once I knew what not to order.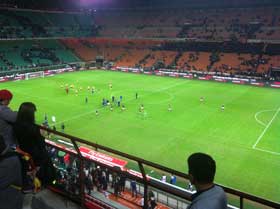 Describe your most meaningful souvenir and why you love it.
Hannah: While abroad I made a scrap book of my adventures. I saved train tickets, receipts or napkins form my favorite restaurant and wrote a few sentences about the activity to re-jog my memory.
I usually hate writing dairies because I hate reading back my feelings so I wrote in a more factual way about what I did. Even just a few months later I love looking through it so I can just imagine how much I will enjoy it in 15 years.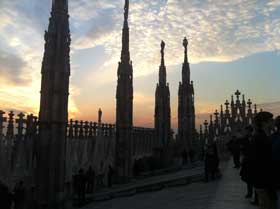 Did you run into a language barrier? Did you ever think you knew more/less of the language?
Hannah: I knew a little bit of Italian going into my trip but barley enough to get around. The program starts with a few weeks of intensive Italian classes. I learned so much faster then I ever learned in the States because I used what I learned immediately that day.
That being said there were plenty of times that I encountered a language barrier but I tried to have fun with it. For the most part Italians appreciate that you tried and you will quickly learn how to use a little Italian, English and hand gestures to eventually get what you want.