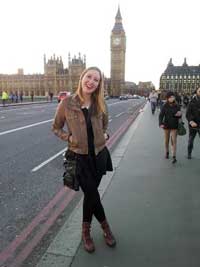 What did SAI do for you and what did you need to do on your own?
Mackenzie: SAI did a lot of the planning that I didn't want to or know how to do, so they really made the whole experience easier for me. First, I had to pick out what classes interested me the most, but SAI did the actual registering for my classes. Then, SAI arranged housing and a cell phone for each student. In addition, they planned many different day trips and excursions throughout the term, which was very nice.
It gave us an opportunity to see things we might not otherwise have found or thought to go see. Dinners were even sometimes included, which was always a great opportunity to touch base with the advisors and others I didn't see all the time. I always felt like they were there for me if I ever needed their help, and SAI really helped guide me through my whole experience in London.
What was the best place you visited outside of your study abroad city?
Mackenzie: The best place I visited outside of London was the south of France, around Marseilles. The French countryside was so tranquil and beautiful, especially compared to the hustle and bustle of London. I had the opportunity to stay with a past exchange student I had hosted in the US and her family.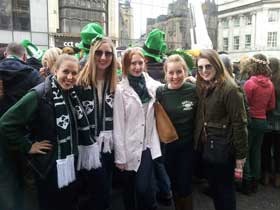 Being immersed in another culture where I didn't know the language was probably the most unique experience of my life, and part of what made the south of France so enjoyable for me. Not only that, but her family took me around to some other beach towns, like La Ciotat and Cassis, along the coast. The whole experience of being in the south of France was something I'll never forget!
Describe your program socially and academically.
Mackenzie: The program I completed was a Fashion Business program at the London College of Fashion, through SAI's University of the Arts: London program. Academically, I absolutely loved my experience at the London College of Fashion! I would recommend it to anyone studying fashion. The professors were extremely knowledgeable, personable, and had tons of real-world experience in the industry.
In addition, the classes all consisted of subjects that really interested me, and I felt like I learned a lot in a short amount of time. The classes were intertwined with the city and included going out into stores and other places to do assignments as well. Socially, I felt like I always had the opportunity to go see or do things in my free time, whether it was with roommates, classmates, or by myself. Classes were only once a week, so I had a lot of time off to explore London. The only exception to this freedom was the last few weeks, as final project deadlines approached, but even then I enjoyed doing some of the schoolwork, as it was very relevant to my interests.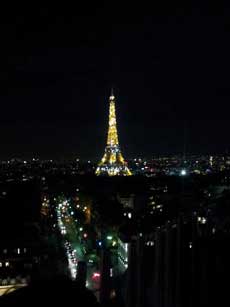 Do you think your program changed you as a person?
Mackenzie: I definitely think my program changed me as a person. Living in a completely different country, I was forced out of my comfort zone. I was put in new situations I had never experienced before and had to figure out my way. I'll admit it was a little intimidating at first, but in no time, I had developed familiarity and started thriving.
I fell in love with London and tried to embrace everything about it by seeing everything I could. Through doing this, I learned so much about myself and what I am capable of doing. Now, I am much more self-aware and sure of myself, as well as much more receptive to the world around me. I have grown so much as a person and absolutely love it.