Why did you decide to travel abroad with Gapforce in Nepal?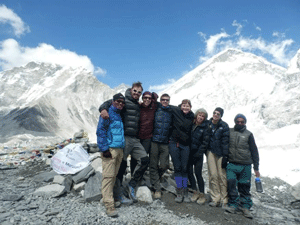 Mary: Nepal has always been one of the countries at the top of my list to visit and I felt like the right group to travel there with would eventually find me.
After spending months researching various expedition companies, I came across the Gapforce website and something just felt right.
I spent many hours going through all of the trips that they offered, read through the blogs posted by people on previous expeditions and got into contact with the head office in London.
While their catalog of programs was impressive, it wasn't until I received a phone call from the office that I knew Gapforce was the group I wanted to go with.
I had made contact with many different companies during my researching period, but Gapforce was the first one that took the time to call me, despite the 6 hour time difference between us. This was the first of many times when I realized how much they truly care about the happiness of their volunteers and the primary reason why I chose them.
Ten years from now, what's the one thing you think you'll remember from the trip?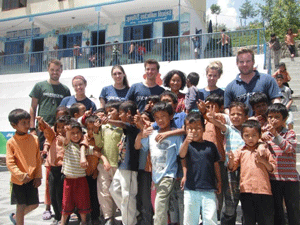 Mary: When all of the small details, like what food I ate and what comment made me laugh until I cried, start to fade from my memory, I think the thing that I will remember the most is how truly happy I was while I was in Nepal.
Seeing dozens of Hindu and Buddhist temples while in Kathmandu, riding on the back of an elephant, and seeing the Himalayas unfold before my eyes on the trek to Everest Base Camp are many memories that I will never be able to part with.
I believe that looking back on all of these experiences will remind me of the immense joy that I felt for the full five weeks I was there.
Tell me about one person you met.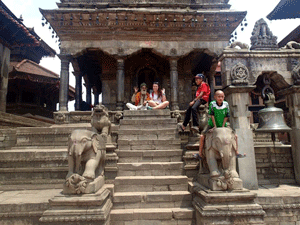 Mary: While it seemed that every single person I encountered in Nepal became very special to me, there was one person in particular who stood out the most.
As our guide for the EBC trek, Sunil was hired for his ability to lead us and his knowledge of the country, but his humorous spirit and kind nature took him above and beyond all expectations that I had.
We spent a solid ten days in his company and rather than leaving us whenever we got back to Kathmandu, Sunil bought us lunch and then arrived at our hostel a few days later for our send off.
The people of Nepal are all very sweet and Sunil in particular will always remain in my memory.
Any tips for someone considering this trip?
Mary: One of the key reasons why I think this trip turned out to be so life changing for me is that I went into it with an open mind and an open heart.
The best advice I could give someone considering going on a trip like this one would be to do the same. Once you are able to put aside all inhibitions and really soak in every aspect of the experience, any trip will become a great one!