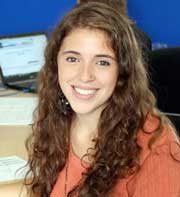 Why did you decide to intern abroad with Australian Internships?
Daniela: I decided to intern abroad with Australian Internships because I felt they were very serious on what they do. They take the time to answer your questions and doubts and they try their best to find a perfect placement in which you could grow as a professional.
Also, I trusted them because they took in consideration my goals and objectives and from there they found a suitable match. Also, you realized that for Australian Internships is very important that you are ready to face the new challenges as an intern, they give you advise on how to act and make the best out of your internship.
What made this intern abroad experience unique and special?
Daniela: What made this experience unique and special was the people I met. This experience wouldn't have been the same without them. You get to meet people from all around the world- places that before this experience, you'd have never thought you have a home to stay. It feels like you know them all you life but the truth is, you know so little about them.
But it didn't matter... Day by day, they became your family away from home. Now, I share with each of them, one of the best months of my life. It is the kind of friendship that it doesn't matter where you are, where your from or what the next plan is, you can always catch up on where you left it... Because those months were all you need to know about them.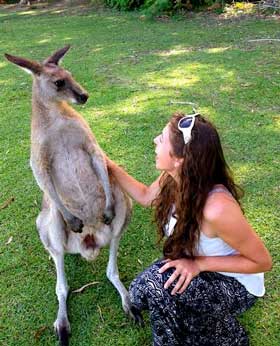 Where was your best photo taken and what was it of?
Daniela: It is hard to pick a favourite photo. They are so many beautiful places and moments shared that it is difficult to recall just one. But there are two that I think of more often than not. The first one is the time I got to hang out with my mates Kangaroos. They are the friendliest animals ever! Kangaroo are nice and funny, just as I imagine.
The second one was at Coffs Harbour when I travel with my two Australian mates. The photo represents how good friends we have became. Australia is the place where I belong and that photo reminds me of all the fun times I have while living in Australia.
Describe your most meaningful souvenir and why you love it?
Daniela: Easy! My first concert ever was Twilight at Taronga Zoo, Sydney. I went to watch Jimmy Barnes, on of the best Australian singers in the world- that's what my Australians friends have told me. While I was dancing and singing along his last song, the drummer throws his drumstick and with the help of the person I was with, I got it!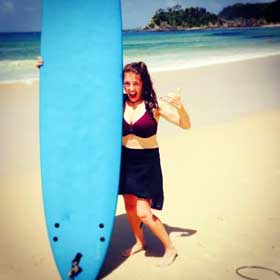 It was incredible fun and spontaneous. The drumstick with the tickets, are the best souvenir of my trip. The whole night was something I have never done. I invited a person I barely knew to my first concert – it could have ended horrible. However, it felt that I was hundred percent myself the entire night and by my surprise I ended up with a great gift and an amazing view of the city.
What was the best place you visited outside of your intern abroad city?
Daniela: Every place I went was incredible, but there was one that it looked like a perfect postcard. It was called Seal Rock, about 3 hours from Sydney. You can't go to Australia and not surf, so I decided to go to surfcamp for about 5 days, and this place was unbelievable.
The sand was so soft that it felt like perfect cotton and the water wasn't cold, it was actually a bit warm. Even the water felt soft, like it didn't have any salt. But what it was more fun, is that by day 3 I was able to stand up and surf! Almost like a pro! Haha.