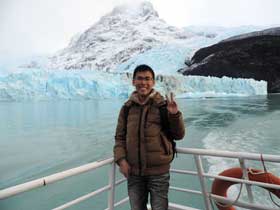 Tell us about an experience you had that you could not have had at home.
Ben: I got to witness and gain insights on the Argentinian way of education; a bilingual education that includes both Spanish and English. I got to observe Spanish lessons and speak in Spanish to teachers and students. I had the opportunity to play football with the kids. As you know, Argentina is a football-crazy nation which adores Lionel Messi.
The children receive professional football training from a tender age of 10. On the other hand, in Singapore, I only speak English and Chinese. Football is also not given much attention in Singapore. Through interaction with students, I was also able to engage in cultural exchange which I would not have been able to do at home.
What was the best place you visited outside of your intern abroad city?
Ben: Argentina is the eighth biggest country in the world in terms of geographical area. As such, it stretches across many latitudes on the world map, giving rise to various landscapes such as deserts, mountains, glaciers, waterfalls and lakes. The best place that I visited outside of Buenos Aires is Ushuaia, widely regarded as the southernmost city in the world.
The tourist office there will give you a passport stamp for that. I scaled Glacier Martial (with its snow-capped summit), took a ferry ride along the Beagle Channel (the sea linked to Charles Darwin's research) and hiked in the Tierra del Fuego National Park (with its numerous flora and fauna).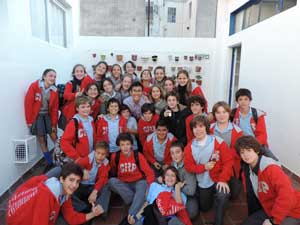 What is one piece of advice you'd give future ​​Connect-123 ​students?
Ben: Be prepared to expect the unexpected. Be prepared to step out of your comfort zone. It is only when you are prepared to do this will you benefit most from your experience. For example, I arrived in Argentina without any Spanish background. I took pains to learn it via interaction with the locals. Be comfortable with some awkward moments the first two weeks into your trip because you are unable to speak or comprehend the language.
However, the rate of improvement will be greater as long as you make the effort, regardless of how many grammatical mistakes you will make. You will also run into people along the way, people whom you never envisioned you will meet. Take the initiative to reach out to them, interact with them. Only then you will truly reap the benefits of the internship stint.
Describe your most meaningful souvenir and why you love it.
Ben: They are two wristbands that one of my students made for me on behalf of the entire class. The first is blue-and-white, which represent the colours of the Argentina flag. The second is red-and-white, which represent the colours of the Singapore flag. The student told me that it is a token of appreciation for helping them with English and sharing about the culture of Singapore.
They feel that the cultural exchange has opened their horizons to the world and enriched their knowledge. They have come to accept the foreign influence that I have played during the course of my internship. They have warmed up to me and were extremely honoured to have had the opportunity to go through this journey with me.