Why did you decide to enroll with Oyster Worldwide in South Africa?
Amber: I decided to enroll with Oyster Worldwide after seeing them at a Careers fair at my college. I was impressed by how professional they are, and after researching many other gap year companies it was Oyster who stood out to me with their range of trips and information provided about them all.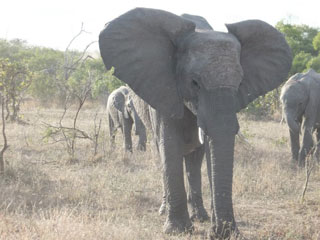 After my initial enquiry I was quickly responded to and everything ran smoothly from there! I found it beneficial to research around on their website, as well as using other resources online to see how peoples experiences went with using Oyster, and all seemed very positive.
What was the most memorable moment of the trip?
Amber: It's difficult to pinpoint the one most memorable moment! It would probably have to be experiencing my first Baboon hug down by the pool, as well as sitting in the middle baboon cage and playing with them all.
When I had to look after a young baby baboon for the day, we even took a (short) shower together! Definitely something I did not think I'd ever experience.
The Kruger trip that is offered was also an amazing experience, where I managed to see all of the Big 5 and camped outside with the sounds of the Lions roaring.
What did you find most surprising?
Amber: Without sounding stupid, the thing that surprised me the most was how brown South Africa is! I've never really been anywhere before, and I guess I was too used to the green surroundings in England.
Another pleasant surprise was how friendly and welcoming the family was to all the volunteers. You are made to feel very at home and making friends was easy despite the language barrier.
I quickly learnt how cold it gets in the evenings, and it felt strange sleeping with 2 blankets and my slippers on in July! The stars that you can see in the nighttime is like nothing you'll ever see anywhere else, there's no light pollution and you're in a different hemisphere so it truly is beautiful.
Do you feel like you made an impact? Why or why not?
Amber: Working hands on with the orphaned baby baboons made me feel like I was making a difference; if it wasn't for the centre and all the volunteers, they probably wouldn't have made it far in their life.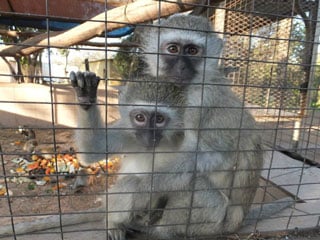 When you're preparing all the food for the animals and you see how much they enjoy it, as well as playing by the pool or just pulling faces at them, you realise how it's the little things that can help.
Tasks like cleaning the cages or tidying the areas around, you can see the immediate effects and it made me feel like what I was doing was beneficial, even if it was just for the short time I was there.
Did this experience influence your world view? How?
Amber: Without sounding too cliche, the experience did change my views for the better, but not just about the world.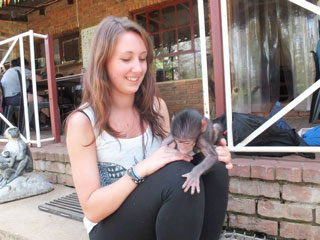 At 18 years old, where I had only been on a plane twice, I had the courage to travel alone to somewhere I had never been before and to meet people from all over the world.
It made me realise that if you work hard and put your mind to something, you can achieve anything and that it is only yourself who can stop you.
Meeting other volunteers inspires you to participate more, and when you see such positive affects on vulnerable animals it really does make it all worth it. There are so many opportunities available for people who are more fortunate to help others, so if you can you should!