What position do you hold at Oyster Worldwide? What led you to join their team?
Laura: I am Projects Coordinator at Oyster Worldwide. In 2009 I took part in Oyster's Whistler Kids ski instructor program. I really enjoyed my time away and following the program I went to university.
During university I always kept an eye on Oyster's website, social networking sites and newsletter- I even helped at gap year fairs and talks in my local area! After completing my university degree I noticed a job was available and as a passionate traveller and former gap year participant I was keen to join the team and inspire others to travel and take gap years.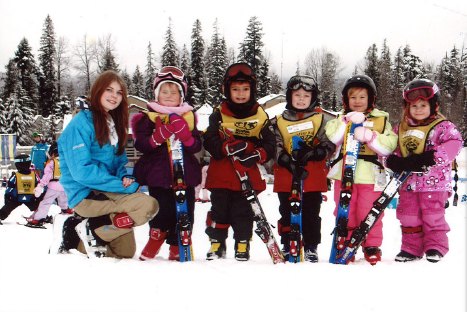 What do you most enjoy about your role?
I really enjoy talking to students about the opportunities available to them and how it can contribute to not only their future academic/career direction but also their self-esteem. I enjoy sharing my travel experiences in the hope it will inspire others.
What do you think makes Oyster Worldwide's programs unique?
As a former Oyster participant I would say the support on offer is what makes Oyster unique. From the day you apply for a place you receive full support- from discussing the program in depth before you depart to discussing your experience on your return.
It was hugely reassuring to have a destination manager dedicated to my application and having a representative in the country to help with the settling in process and for also being a point of contact in case of an emergency.
What's your favorite Oyster Worldwide story?
One of my favorite stories is about an Oyster participant called Clara. After finishing university Clara decided she wanted to see more of the world and gain some life experience that would boost her CV.
She decided to join the China programme where she would teach English. This was very different to anything she had done before and I was amazed by how motivated she was to step out of her comfort zone.
Despite the obvious challenges of a language barrier and different education system she has excelled as a teacher and really enjoys it. The school were so impressed by her progress that she was invited to teach for a further academic year and has even been hired by parents for extra tutoring sessions.
Clara is not only a teacher…she is also a student! Whilst living in China Clara has made it her mission to learn Mandarin and is determined to be at a 'good conversation level' by the time she returns home. She has also been learning to play guitar and yoga which she is thoroughly enjoying and meeting lots of people in the process.
When she is not teaching or concentrating on her new hobbies Clara is embracing the surroundings and culture - trips have included visits to Shanghai, Beijing, Hong Kong and Xi'an. Clara has been so inspired by the culture that when she returned to the UK briefly for a wedding she had a dress made from China silk featuring a traditional Chinese pattern and fit.
Clara is a fantastic example of someone who makes the most out of their time away and embraces the cultural experience.
What tips do you have for first-time travellers abroad?
There is a quote that always stands out in my mind "life is your stage…perform." It is natural to feel nervous and I know from personal experience how daunting it is leaving home for the first time to explore a completely different country and experience a different culture - but the best advice I can give is to embrace it!
Try every type of food, take part in all kinds of activities and you will have a fantastic time abroad that you can share with your friends and family on your return.