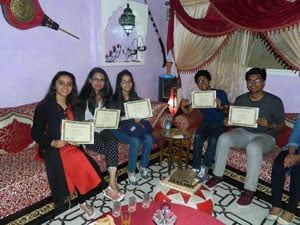 Why did you decide to volunteer abroad with ​MCAS?
Melihah: I decided to volunteer abroad with MCAS with my friends because the program's running seemed very interesting and unique, particularly the work with the orphanage in Morocco.
Also, Ali Bensebaa and Samia Sd (our volunteering co-ordinators) were very helpful during the first stages of planning the trip; Ali and Samia were always there for us whenever any parent or volunteer had a query and Ali also even gave us a tour of the host families home over Skype.
MCAS overall were very professional throughout the whole trip and also very friendly to approach; they didn't leave us worried at any point from the beginning right up until the end, and even continued to stay in touch with us now.
In addition to this, the MCAS program is the least expensive trip available online which was fantastic. I would recommend volunteering with MCAS over any other organization because of how safe and secure the staff and the various host families will make you feel, which can be quite rare with many other organizations with whom we had been involved with previously.
Recall a time when your education and experience didn't prepare you for a situation abroad.
Melihah: Whilst volunteering, we were required to use the taxis to travel around the city. The two languages that were most commonly spoken in Morocco were French and Arabic; unfortunately, out of all of us that were volunteering, we only had GCSEs in German and Spanish, and thus no-one could speak French coherently.
Therefore speaking French was something that we all found fairly difficult to do with the taxi drivers, however we managed to remember a few French phrases.
And luckily, many Moroccans spoke English which was also very beneficial! Despite this, all the locals were willing to help and guide us. We were also lucky because the mother and one of the sons of our host family were able to speak English.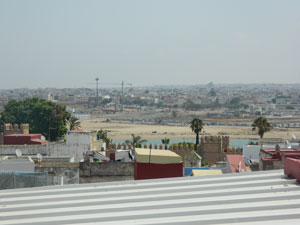 If you could do-over one thing, what would it be?
Melihah: If I had the chance to do-over the trip, I would definitely have extended my stay. The one week trip wasn't long enough to be able to properly explore the city and understand the Moroccan culture in depth.
Although, we did manage to view many historical sites and local cities whilst in Rabat such as Casablanca, the Roman ruins and the Hassan II mosque.
However, I would advise anyone that is considering volunteering abroad to Morocco with MCAS to stay for at least 2 weeks because it will mean that you can have more time to visit the traditional local towns, as well as allowing for more time spent with the children in the orphanage.
Tell us about an experience you had that you could not have had at home.
Melihah: On our last night in Morocco, Ali took us to another host families home, where the mother was very skilled in doing henna. All the girls on the trip were able to experience the Moroccan style of henna which she did on our hands. This was something that was very unique and different to British culture, but nonetheless, it was very enjoyable. We were also able to meet her family and three daughters which was very exciting.