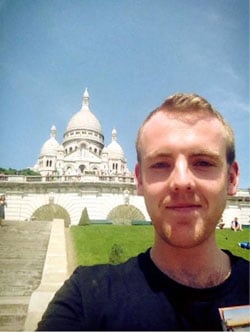 Why did you decide to intern abroad with Absolute Internship?
Iain: During my studies a close acquaintance and fellow student participated in Absolute's Shanghai program. My colleague had nothing but good things to say about his experience and emphasized the high levels of organization and conduct of the Absolute staff, inciting that I should consider involvement with one of Absolute's programs as soon as possible and that I wouldn't regret committing.
After critiquing Absolute's website and contacting them to investigate further I was sold on the prospect for what this opportunity could offer me in terms of travel experience and experience that would benefit my career progression.
What did Absolute Internship do for you and what did you need to do on your own?
Iain: Absolute covered every organizational aspect daunting when traveling internationally. This included facilitating travel from the airport to the Absolute residence at which a welcome pack was included introducing us to accommodation procedures and aspects of London in general.
Absolute staff organized regular social activities that encouraged us to meet and interact with fellow interns, as well as open up London and Paris to us through specific excursions. Little things such as the provision of travel cards, towels and sim cards made adjusting to, and exploring the new surroundings less overwhelming and the 24/7 availability of friendly, understanding staff quickly made residence a welcoming temporary home.
In terms of self-sufficiency I was responsible for literally living, getting to work on time and buying my own groceries. The adept kitchen facilities in residence made cooking for myself a breeze with the added benefits of secure storage and cleaning utilities.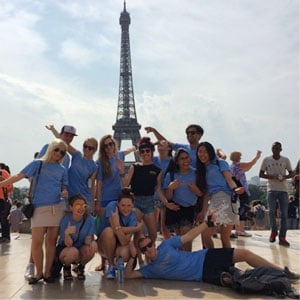 What is one piece of advice you'd give future Absolute Internship students?
Iain: I think it's very important for future students to understand their personal reasons for involvement in the program and be prepared to push some of their boundaries.
At times interning within a firm is testing, these are real firms whom are trying to achieve a real agenda and as an intern within them you are expected to give your best and work to your full capacity as a means to further your experience and learning.
This can be challenging when you are not as invested as employees within these firms but being adamant that you are there to take away as much as possible from the experience will always see you through.
On the flip side you are involved in an international experience within a new city to explore and make some memories in. This is where having an open attitude and "yes" kind of mentality really helps to make the most of the limited time available and by pushing some of my boundaries I felt as if I had fulfilled the potential of the trip and returned home knowing I had no regrets or things I wished I had done.
How has this experience impacted your future?
Iain: Personally it really opened my mind to the opportunities of traveling outside one's comfort zone and how by loosening some refrain, you can meet, socialize and network with a diverse range of people you would not normally encounter.
This I can emphasize allowed me to gain access to a range of experiences I would never have dreamed of occurring and really attributed to my personal development in the sense that I am now motivated to seek out these unique involvements as a means of advancing my character and in general just seeing more.
Professionally and academically my experience with Absolute really made my studies real and bridged the gap between theory, experience and making a career of it. I found myself applying the knowledge I had accumulated over the course of my studies and this made it relevant, allowing me to justify the years I've spent at Uni.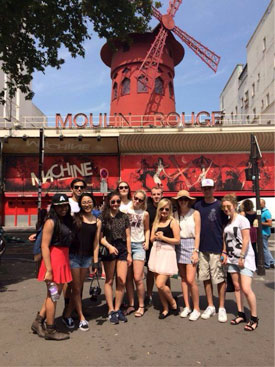 Furthermore involvement in the industry opened my eyes to the large and diverse career paths available over the world and it was emphasized that by taking this opportunity I was setting myself up in the best way possible to take advantage of them.
What made this intern abroad experience unique and special?
Iain: I felt this experience was unique and special because I returned home feeling refreshed, motivated and proud with what I had achieved in London.
I made a plethora of new friends and work associates of which I keep in contact with on a regular basis and Absolute's program I feel really gave me the opportunity reaffirmed that I was doing the right thing with my future and that I enjoyed it.
The level of organization provided by Absolute staff as well as their accommodating nature and huge involvement across all aspects of the program was special in the sense that you constantly felt looked after and supported, making the program that much more enjoyable and contributing to bringing out its full potential.