Why did you decide to get TEFL certified with TEFLPro in Prague?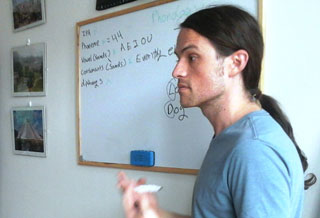 Sean: Since travelling has been my #1 priority after graduating school, I knew that having a TEFL certificate would be the only way to make it happen.
I chose Prague because I've always wanted to see the Czech Republic, and you are able to save more money here than most places in Europe since the cost of living is so low.
As for TEFLPro - first I liked they offered small-class lessons, second they were very helpful before the course and third they are centrally located (near the Old Town Square).
What made this teach abroad experience unique and special?
Sean: I've been able to develop some incredible friendships with people from all over the world that I otherwise would have never known. I've also been able to travel to places I never thought I would see.
How has this experience impacted your future? (Personally, professionally, academically, etc.)
Sean: I think it has given me invaluable experience, especially having to assimilate a culture very different from my own. I wouldn't change it for the world!
What is one piece of advice you would offer someone considering teaching abroad?
Sean: Just do it! Sometimes making the leap can be the hardest part...but in all my years abroad, I've never met one person who has regretted the decision to teach abroad.